Members of the Advisory Board of UNCTAD's eTrade for Women initiative reaffirmed their commitment to empowering women entrepreneurs in the digital economy during their first meeting on 20 January.
UNCTAD Secretary-General Rebeca Grynspan led a discussion on priority actions for helping more women reap the benefits of the digital economy with eTrade for Women advocates, a select group of women leaders in the tech sector.
"The COVID-19 crisis has made the digitalization of the economy more decisive, but unfortunately, it has also widened the gaps," Ms. Grynspan said. "If we continue with the same business-as-usual mentality as before the pandemic, digitalization will not reduce gender gaps, it will increase them."
Empowering women to thrive
"The untapped potential of women entrepreneurs worldwide is immense. Closing the gender gap on online platforms means being able to put billions of dollars into the wallets of women, female entrepreneurs, and exponentially grow e-commerce markets," said Steven Collet, ambassador for business and development in the Ministry of Foreign Affairs of the Netherlands.
He cited an International Finance Corporation report issued last year, which estimated that women can add over $14.5 billion to e-commerce markets in Africa and $280 billion in South-East Asia between 2025 and 2030. "These are significant numbers. It gives us a lot of opportunities," Mr. Collet said.
To meet the gender challenge, the eTrade for Women initiative launched by UNCTAD in 2019 aims at building more inclusive digital ecosystems by empowering women digital entrepreneurs in developing countries.
"eTrade for Women addresses gaps in terms of visibility, learning and networking opportunities available to women in the digital economy. It also enables them to emerge as a credible voice in the public policy space," said Shamika N. Sirimanne, UNCTAD's director of technology and logistics, who moderated the event.
The initiative supports over 200 women digital entrepreneurs in 30 countries across the globe, including 13 least developed countries. It has held seven regional masterclasses in Africa, South-East Asia, Latin America and the Balkans.
"The Advisory Board reviewed eTrade for Women's achievements, but most of all identified the key actions we will focus on to unlock women's potential in the digital economy worldwide," Ms. Sirimanne said.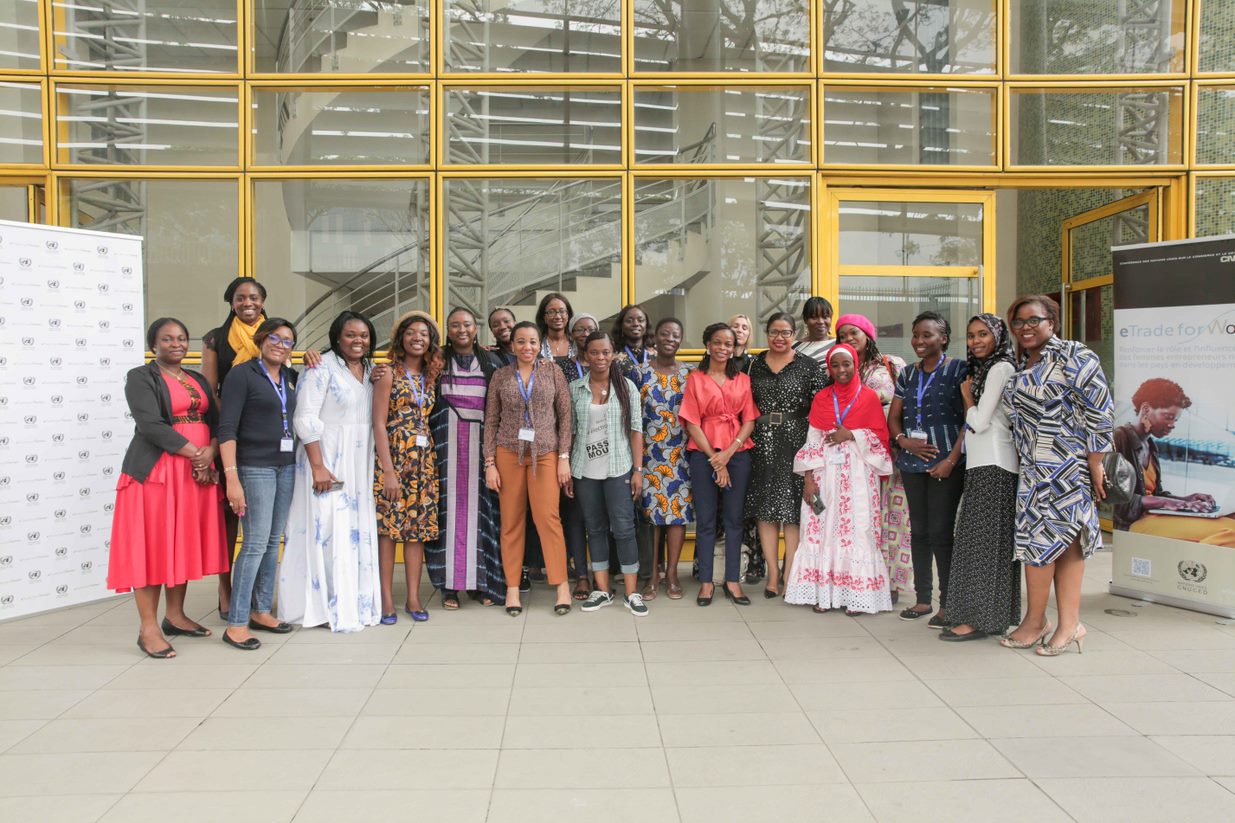 Participants at the eTrade for Women masterclass in Abidjan, Cõte d'Ivoire (26-28 February 2020).
Amplifying women entrepreneurs' voices
Board members highlighted the need to make women entrepreneurs' voices better heard at the policy table and ensure that women in the digital space have opportunities to engage with the policymakers who design policies and regulations related to trade and digitalization.
"Change requires more gender-inclusive policies and women in leadership positions. Women who can be heard and can be consulted, women who show the way forward. eTrade for Women has opened valuable avenues in this direction, notably through the role of the advocates," Ms. Grynspan said.
Three of the advocates appointed by UNCTAD to serve as role models for other women entrepreneurs shared their experiences and explained how they had torn down barriers and crossed lines to succeed as top entrepreneurs.
They were Xiaofei Yao, founder and CEO of Rogrand, the largest online pharmaceutical company in China; Clarisse Iribagiza, founder and CEO of HeHe, a mobile technologies company that serves thousands of businesses in Rwanda; and Mona Ataya, founder and CEO of Mumzworld, the biggest online baby shop in the Middle East.
Two of the members of the eTrade for Women communities, the initiative's women entrepreneurs' network – Mazlita Mat Hassan, the founder of RECQA, based in Malaysia, and Claudia Rosales, the founder of Women E-Work, based in Peru – also joined the conversation.
They shared their perspectives as beneficiaries and expressed their aspirations for the future of the initiative. "There is so much learning during the sessions!" Ms. Hassan said. "My hope for 2022 is to continue to learn and to be inspired by successful women entrepreneurs, for me to be able to make a bigger impact and empower the marginalized children and women in my society."
Measures to support women's entrepreneurial journeys
The board brainstormed on concrete actions to be taken for greater impact and decided to prioritize three measures:
To intensify the dialogue between women entrepreneurs and policymakers to build a more inclusive digital economy.
To further impact future generations of women digital entrepreneurs by increasing synergies between the advocates and the communities through mentorship and coaching.
To give more visibility to the initiative and its work.
The advocates agreed that in addition to public-private dialogue, they would continue to mobilize efforts to support other women digital entrepreneurs, and nurture eTrade for Women's unique community, including after their current tenures.
"This first Advisory Board meeting has illustrated how much we have achieved, but also how much more still needs to be done. UNCTAD will continue empowering women digital entrepreneurs across the world," Ms. Sirimanne concluded.