The coronavirus (COVID-19) outbreak is causing a global health emergency, and a global economic slowdown. Trade, investment, growth, and employment are all affected and the crisis will have an impact on the achievement of the UN Sustainable Development Goals.
eTrade for all partners are fully involved in finding ways to mitigate the crisis stemming from the pandemic in their respective field of expertise. On this site, you will find a repository of useful resources from our partners providing insights, briefs, publications and overall guidance in ways to cope with the COVID-19 fallout as it relates to e-commerce and the digital economy.
The coronavirus (COVID-19) outbreak is causing a global health emergency, and a global economic slowdown. Trade, investment, growth, and employment are all affected and the crisis will have an impact on the achievement of the UN Sustainable Development Goals.
eTrade for all partners are fully involved in finding ways to mitigate the crisis stemming from the pandemic in their respective field of expertise. On this site, you will find a repository of useful resources from our partners providing insights, briefs, publications and overall guidance in ways to cope with the COVID-19 fallout as it relates to e-commerce and the digital economy.
COVID-19 and E-Commerce A Global Review
A group of eTrade for all partners joined forces in the midst of the COVID-19 outbreak, with the aim of jointly assessing how the impact of the pandemic was playing out in various regions of the world, what barriers countries and business were facing when trying to leverage digital solutions; what policy responses had been taken; and – not least important – what we could do better to reap synergies and enhance global support to those countries that are the least equipped to manage digital transformation for dealing with the pandemic and beyond.
The numbers that are shared in the article below reflect the numbers in August 2021. The analysis of the economic and aviation indicators we share here reflect the continuing impact of COVID-19 on this industry.
The air transport industry is not only a vital engine of global socio-economic growth, but it is also of vital importance as a catalyst for economic development. Not only does the industry create direct and indirect employment and support tourism and local businesses, but it also stimulates foreign investment and international trade.
Informed decision-making is the foundation upon which successful businesses are built. In a fast-growing industry like aviation, planners and investors require the most comprehensive, up-to-date, and reliable data. ICAO's aviation data/statistics programme provides accurate, reliable and consistent aviation data so that States, international organizations, the aviation industry, tourism and other stakeholders can:
make better projections;
control costs and risks;
improve business valuations; and
benchmark performance.
The UN recognized ICAO as the central agency responsible for the collection, analysis, publication, standardization, improvement and dissemination of statistics pertaining to civil aviation. Because of its status as a UN specialized agency, ICAO remains independent from outside influences and is committed to consistently offering comprehensive and objective data. Every month ICAO produces this Air Transport Monitor, a monthly snapshot and analysis of the economic and aviation indicators.
---
World Results and Analyses for August 2021
Total Scheduled Services (Domestic and International)
Passenger traffic
Revenue Passenger-Kilometres   –   RPK
World passenger traffic fell by -56.0% in August 2021 (compared to 2019), -2.9 percentage points down from the decline in the previous month. This deterioration was mainly attributed to the weakening in domestic markets, and particularly Chinese domestic travel, which plunged dramatically due to the new outbreaks and the more stringent travel restrictions. Some other major domestic markets also worsened. International travel, however, continued to improve in most of the regions, except for Asia/Pacific, where restrictions remain stricter than others.
---
International Traffic vs. Tourist Arrivals
International passenger numbers fell by -63.6% in August 2021 (compared to 2019), +4.2 percentage points up from the decline in the previous month. Easing travel restrictions and progress with vaccinations has supported the continued improvements in international travel. The significant rebound was recorded by intra-European travel.
The international tourist arrivals also picked up and followed a similar trend as international passenger traffic.
---
Capacity
Available Seat-Kilometres   –   ASK
Capacity worldwide fell by -46.2% in August 2021 (compared to 2019), down -1.0 percentage points from the decline in the previous month (-45.2%). With signs of travel rebound towards the end of August, capacity is expected to increase moderately in September 2021 to -43.2% down from the 2019 levels.
---
Load Factor  
The passenger load factor reached 70.0% in August 2021, -3.1 percentage points lower than the previous month. Worsened domestic travel also resulted in a lower domestic load factor. As the recovery of capacity was faster than travel demand recovery, the August LF remained significantly below 2019 levels at -15.7 percentage points lower.
---
Freight Traffic
Freight Tonne-Kilometres  – FTK
World freight traffic reported a growth of +7.7% in August 2021 (compared to 2019), -0.9 percentage points lower than the growth in the previous month. The softening in air cargo growth reflected the slower expansion in export and manufacturing production. Nevertheless, the global demand for goods is expected to be supportive for air cargo growth in the coming months. Africa continued to outperform other regions, surpassing the 2019 levels at over +30%, albeit with the smallest share of world cargo traffic. North America and Middle East also rose double-digitally, while growth for Europe and Asia/Pacific airlines remained moderate. Latin America/Caribbean, the region with the second smallest share of world air cargo traffic, continued to be the only region posting contraction from 2019 levels.
---
Top 15 Airports (Ranked by aircraft departures, passengers, and volume of freight)
Note: Figures include total scheduled and non-scheduled services
July 2021:  -11.9%, -28.0%, and +12.4% (vs. 2019) in terms of aircraft departures, passengers and freight for the Top 15
In terms of aircraft departures, the Top 15 airports reported a combined fall of -11.9%, compared to 2019. The Top 15 list remained dominated by US airports. Three airports, Phoenix, Anchorage and Salt Lake city, posted increases compared to 2019, albeit at a modest rate. Chicago remained 1st with a decline of -16.8%. Amsterdam and Istanbul also ranked within the Top 15.
In terms of passengers, the Top 15 airports posted a total fall of -28.0%, compared to 2019. Unlike the previous months, the list is dominated by US and European airports. For the first time, both Istanbul and Antalya in Turkey ranked within Top 15. Amsterdam, Paris and Frankfurt, also re-appeared in Top 15 after over a year. Atlanta remained at 1st with a decline of -23.5%.
In terms of freight, the Top 15 airports reported an increase of +12.4%, compared to 2019. Hong Kong retained the 1st position with a solid growth of +12.6%. Several airports grew double-digitally, with Anchorage and Taipei recording the strongest increase by +41.8% and +31.1%, respectively. Dubai continued to post the largest contraction at -6.4%.
---
Top 15 Airline Groups (Ranked by RPK)
August 2021: –47.0% (vs. 2019) in terms of RPK for the Top 15
In terms of RPK, the Top 15 airline groups accounted for 53.4% of the world's total RPK in August 2021 and declined by –47.0% compared to 2019. This decline was 6.1 percentage points smaller than the fall in world's average RPK.
Two major factors affected significantly the August rankings. On one side, the Chinese domestic travel fell drastically impacted by the renewed outbreaks; on the other side, international travel in Europe picked up rapidly.
US airlines retained the Top 4 positions wit American ranked 1st followed by Delta, United and Southwest. Jetblue Airways also ranked in the Top 15 supported by solid domestic demand. Among all Top 15 airlines, Southwest posted the smallest decline compared to 2019 levels.
Chinese domestic travel demand worsened again with far worse deterioration than the previous ones, and all Chinese airlines experienced a drastic fall in traffic. As a result, only China Southern and Air China ranked within Top15, at merely 12th and 15th.
Supported by the pick up of intra-European travel, airlines in Europe moved up their rankings after the US airlines from 5th to 10th. Lufthansa and AF-KLM improved 4 and 2 positions to 5th and 6th, respectively.
Qatar Airways and Emirates ranked 11th and 14th, with the latter recording the largest contraction from 2019 levels.
---
Worldwide capacity contracted by -46.2% in August 2021, compared to 2019. This indicated a slight deterioration from July, due to the capacity cut in Asia/Pacific, mainly in the Chinese domestic market. All other regions posted a smaller fall in capacity, with the strongest improvements in Europe the Middle East, mostly owing to the expansion in international capacity.
---
Acronyms: ACI: Airports Council International; ASK: Available Seat-Kilometres; IATA: International Air Transport Association; FTK: Freight Tonne-Kilometres; LF: Passenger Load Factor; OAG: Official Airline Guide; RPK: Revenue Passenger-Kilometres; UNWTO: World Tourism Organization; YoY: Year-on-year; YTD: Year-to-date.
The Digital Creative Economy offers significant economic growth opportunities for ASEAN. The creative economy is related to a broad range of industries: from culture to food, entertainment, textiles and crafts, fashion and beauty or tourism. These sectors were already growing pre-pandemic, thanks to a booming digital economy and growing generations of millennials and generation Z consumers who value experiences. Especially in countries such as Indonesia, the Philippines, Thailand, Malaysia, or Singapore were governments developed dedicated strategies or national agencies to support the creative economy. A famous example in Asia of a country that has successfully developed its creative economy is the Republic of Korea (ROK), where the so-called 'Korea wave', now an established global phenomenon, is estimated to have contributed to the economy by over 10 billion USD between 2004 and 2015. Investments and partnership in the production of creative digital content between ROK and ASEAN are emerging, and these can contribute further to the development on the ASEAN creative economy.
The ASEAN Creative Economy Business Forum (ACEBF) was organised in Bali on the 17-18 of November 2021 by the Indonesian Ministry of Foreign Affairs in collaboration with the Ministry of Tourism and Creative Economy. The forum had the goal to bring together stakeholders of the creative economy, to exchange views on the possible contribution to build an inclusive creative economy ecosystem that can support the post-pandemic recovery, as mentioned by H. E. Sidharto Suryodipuro, Director General for ASEAN Cooperation, Indonesian Ministry of Foreign Affairs in his introduction.
The event was opened by Minister of Tourism and the Creative Economy, Sandiaga Salahuddin Uno, who highlighted the potential for the creative economy to grow and flourish in Indonesia and ASEAN.
During the panel discussion H. E. Satvinder Singh, Deputy Secretary-General of ASEAN discussed the contribution that the digital and creative economy can make to the post-pandemic recovery. He highlighted the great cultural richness of ASEAN and the fact that a large share of women is employed by the creative economy sector, which can be a driver of a more inclusive recovery.
Dr Giulia Ajmone Marsa, ERIA Director for Strategy and Partnership, explained the link between the digital and creative economy and the emergence of innovation ecosystems across ASEAN. She discussed the importance to couple STEM (science, technology, engineering, and mathematics) skills with continuous learning, team-working, inter-disciplinarity to develop a workforce that can thrive in the digital economy. She also mentioned emerging trends that are likely to shape innovation ecosystem across ASEAN in the years to come, including growing cross-border entrepreneurship, sustainability-driven innovation, and a growing number of social enterprises (those companies that not only want to be profitable but also find solutions to social problems).
Mr Ruben Hattari, Netflix Southeast Asia Director of Public Policy, described recent initiatives of the company and the great potential of investing in ASEAN. Recently Asian creative content has been successful globally and increasingly productions from individual ASEAN countries are becoming hits across the region. Netflix also works and collaborates with local governments and policy makers to support the tourism industry, heavily hit by the pandemic, by developing ad hoc content that can make touristic locations visible to a broader audience.
ICT services grew to almost 14% of total services' exports worldwide in 2020, while the long-term upward trend in digitally deliverable services trade rapidly accelerated.
COVID-19 has provided a strong impetus for businesses and individuals to adopt digital tools, helping to drive a 6% increase in worldwide exports of ICT services, according to an UNCTAD technical note on the pandemic's impact on trade in the digital economy, published on 21 October.
The value of ICT services' exports worldwide reached $676 billion in 2020 as the usage of communications services, computer services and software were boosted by the lockdown restrictions implemented in many economies.
This took digitally deliverable services to nearly 64% of total services exports, as they contracted relatively little against the backdrop of an unprecedented decline in total services trade.
However, while these shares increased across all regions, the pandemic-related acceleration in digitalization risks further exacerbating digital divides, with least developed countries (LDCs) being left further behind.
"Low levels of digitalization and eTrade readiness are hampering the ability of LDCs to engage in digital trade at a moment when it has suddenly become even more important," said Shamika N. Sirimanne, UNCTAD director of technology and logistics. "It underscores the need to boost the capabilities of those trailing in digital readiness to catch up in the digital economy."
UNCTAD offers a range of technical assistance and capacity-building to support countries in engaging with and measuring their performance related to e‑commerce and the digital economy.
Digital delivery gains traction
Meanwhile, exports of the wider category of digitally deliverable services – those that can be delivered remotely over ICT networks such as the internet – fell by $58 billion to a value of $3.17 trillion worldwide.
Nevertheless, digital technologies appear to have played an important role in supporting broader international trade and economic activity in 2020.
While total services exports declined by 20% (an unprecedented drop since records began in 1990), worldwide exports of digitally deliverable services fell by only 1.8%. This reflects an increasing reliance on digital delivery to continue services' trade despite restrictions on movement implemented due to the pandemic.
With ICT services exports increasing and digitally deliverable services exports holding relatively steady in 2020, their share in the greatly reduced overall services exports increased significantly across all regions.
Worldwide, digitally deliverable services went from below 52% of services exports in 2019 to almost 64% in 2020, while ICT services grew from 10% to almost 14%, a marked acceleration of the long-term trend (as shown in the chart below).
Regions fared differently within this overarching picture, however. While the export share of digitally deliverable services increased in all regions and there was a 14-percentage point increase across developing regions, the increase was only 10 percentage points in Africa and 6 percentage points in LDCs.
ICT services' export share increased markedly less in LDCs compared to other regions – rising just 0.74 percentage points compared to 3.3 percentage points globally.
Global ICT and digitally deliverable services exports, 2005-2020 and 2019-2020 As a percentage of total services exports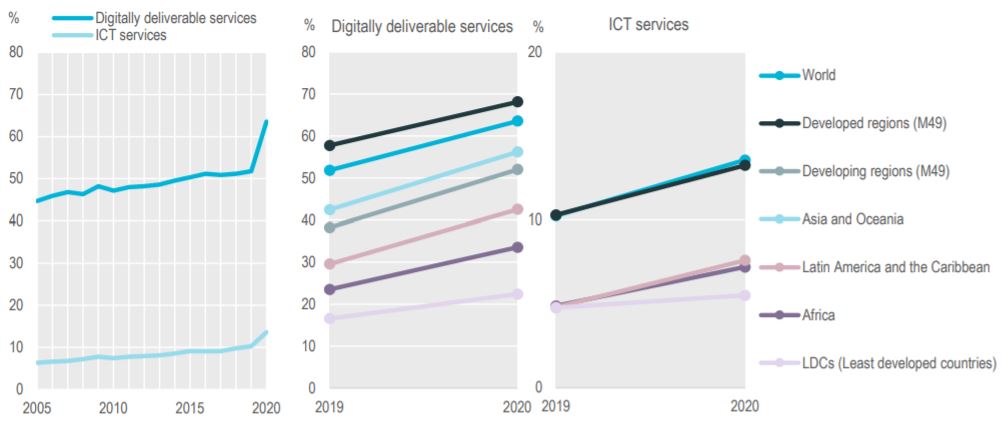 Source: UNCTAD based on UNCTAD digital economy statistics (unctadstat.unctad.org).
Note: ICT services unavailable for "Developing regions (M49)" and "Asia and Oceania".
In many countries, statistics show a strong uptake of online sales and a big increase in the market share of online as opposed to offline retail since the start of the pandemic. In COVID-19 and e-commerce: a global review, the United Nations Conference on Trade and Development reported that Latin America's online marketplace Mercado Libre, for example, sold twice as many items per day in the second quarter of 2020 as during the same period in the previous year; African e-commerce platform Jumia reported a 50% jump in transactions during the first six months of 2020.
The three members of the Global Express Association (DHL, FedEx and UPS) have also seen a massive increase in the volumes of non-document shipments they carry.  During the first wave of the pandemic – February to June 2020 – their volumes grew by 50%. Part of this increase was medical equipment (PPEs, masks, etc.), but a substantial proportion was made up of other types of items.
Consumers went online – many millions of them for the first time – because they could not go out to the shop round the corner. Some observers believe that many will return to the shops when they re-open, but many will continue to shop online. In other words, the volumes of shipments of goods purchased online will stay strong during the recovery from the pandemic.
It is more difficult to find data on international online sales, but here as well, volumes are reported to be increasing. When the COVID-19 outbreak became global early in 2020, initial uncertainty and transport disruption caused a dip in international online sales, but according to cross-border e-commerce solution provider eShopWorld, they rebounded in April 2020 and then rose to unprecedented levels throughout the course of 2020.
It has in fact been pointed out that facilitating cross-border e-commerce could help with the economic recovery, provided there is due emphasis on the need to ensure that the smallest traders can avail themselves of the export opportunities this brings.
Many countries have established thresholds below which no duties and taxes are levied and only minimal information is required to be provided when a consignment enters a country. While the value of this threshold varies a lot, in most countries the exponential increase in the sale of physical products online translates into an increasing number of "low-value" shipments crossing a border. Controlling this particular flow of goods to prevent the movement of prohibited and restricted goods, and identify consignments which have been split and/or undervalued to evade duties and taxes, presents a number of challenges.
The pressing issue is how to manage this time-sensitive flow of goods without placing a strain on control operations and on the capacity of logistics service providers, and without creating complex procedures and a heavy workload for small businesses and individuals who have limited capacity to meet complex trade regulations.
WCO STANDARDS AND GUIDANCE MATERIAL
To address this issue, WCO Members have been working through a multi-stakeholder Working Group on E-Commerce (WGEC)[1] on the development of international norms and guidance material, which have been brought together in an E-Commerce Package including not only a Framework of Standards on cross-border e-commerce (E-Commerce FoS), but also many tools to support its implementation.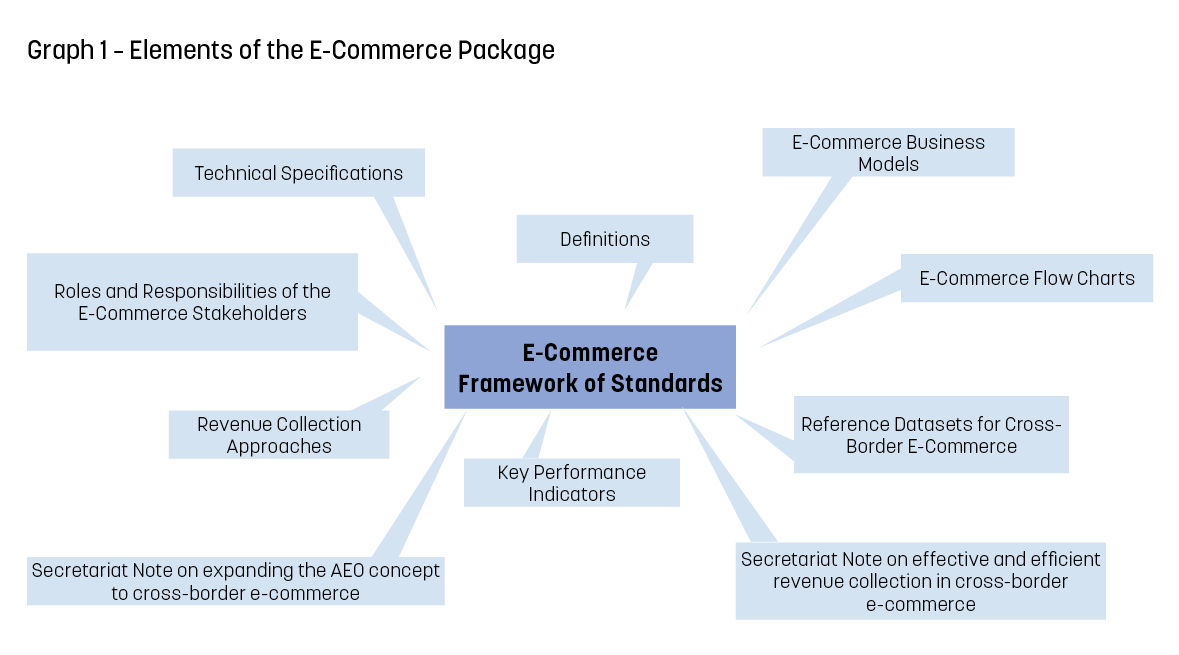 The Framework provides 15 baseline global standards with a focus on the exchange of advance electronic data (AED) for effective risk management. It also encourages the use of the Authorized Economic Operator (AEO) concept, non-intrusive inspection (NII) equipment, data analytics, and other cutting-edge technologies to support safe, secure and sustainable cross-border e-commerce.
Now is the time for implementation, and a broad capacity building action plan which will guide the WCO Secretariat's activities in the coming months has recently been added to the Package, along with key performance indicators (KPIs) which will make it possible to monitor the implementation of the WCO standards and identify capacity building needs.
In January 2021, the Secretariat started rolling out regional workshops to ensure that all WCO Members had a good knowledge of the Package; these workshops included representatives of the Universal Postal Union (UPU), the Organisation for Economic Co-operation and Development (OECD), the Global Express Association (GEA) and e-commerce stakeholders.
As a next step, in 2022 national workshops will be planned for administrations that have notified their intention to implement the E-Commerce FoS, completed an assessment using the WCO KPIs and made an official request to the Secretariat. The Secretariat has already accredited 11 Technical and Operational Advisers on E-Commerce so it can respond positively to such requests for assistance.
MAIN CHALLENGES AND TOPICS DISCUSSED
Areas posing specific challenges were identified during the regional workshops. They include the collection of electronic advance information on e-commerce shipments, the improvement of compliance and data quality, the simplification of duty and tax payment procedures which are often too complex, and the strengthening of risk analysis capacities. The topics discussed included expanding the concept of Authorized Economic Operator (AEO) to include e-commerce stakeholders, the use of advanced technologies, and cooperation with stakeholders such as marketplaces, fulfilment centers and free zones/warehouses.
GOVERNMENTS AND BUSINESS NEED TO MEET THIS CHALLENGE TOGETHER
In the same spirit as the regional workshops, on 28 and 29 June 2021 the Secretariat held its Second Global Conference on Cross-Border E-Commerce, thanks to the financial support of the Customs Cooperation Fund of Japan. Some speakers highlighted the tremendous degree of dynamism and also the variety observed in countries nowadays in the area of cross-border e-commerce approaches, legislation and capacity; for example, the ability to analyse data for risk assessment purposes varies a lot between national agencies and countries. Moreover, while the underlying technology enabling data exchange may be similar in terms of its fundamental logic, the requirements differ from one administration to another.
One of the objectives of the workshops and the Conferences has been to enable Customs to share processes and procedures, as well as to better understand the e-commerce "ecosystem" and its business models. Other forums also exist at the national level, with more and more Customs administrations creating working groups with e-commerce stakeholders as they review their legal and operational frameworks. At a higher level, companies have started building their own cooperation frameworks with some governments in order to explore new policies and rules in support of trade.
For the "Dossier" in this Edition, we have invited several administrations to share information on the initiatives they are taking to enhance their capacity to control the compliance of "low value" shipments.
We start with an article by Argentina Customs, explaining how the Administration is reviewing its legal, policy and operational framework to ensure it is aligned with the WCO E-Commerce FoS and other WCO guidance material. The article does not describe the procedures in place to process the flows of goods generated by online sales in Argentina, but interested readers can consult the WCO Compendium of Case Studies on E-Commerce to which Argentina Customs contributed. Instead, the article focuses on the various steps of the review process.
This is followed by an article by United States Customs and Border Protection about two test programmes it recently conducted to assess the possibility of collecting certain advance data related to shipments potentially eligible for release under its de minimis entry process, and to implement a new entry process for such shipments.
Next, the use of three types of technology to enhance targeting capacities is described in an article by the Korea Customs Service. These technologies are blockchain, artificial intelligence and big data. The Administration also shares some interesting lessons, highlighting the fact that successful technology-focused projects aim to find solutions to actual issues faced by operational officers, and that teamwork between ICT and Customs experts is critical.
The last article introduces Peru Customs' new clearance process for express shipments, as well as the web platform and mobile application it has developed to enable importers to track the status of their shipments and pay duties and taxes at authorized banking institutions. Not only has the new process enabled the Administration to improve its risk management procedures, it has also significantly reduced the time required for the release of goods.
Even if every country's situation is unique, I believe that it is still important to ensure experiences are shared and initiatives explained. More and more Customs administrations are looking at how to review or enhance their legal and operational frameworks in line with WCO standards and guidance tools. I warmly encourage them to contact us should they wish to communicate on their eff
[1] The Working Group comprised representatives from governments, the private sector, international organizations, E-Commerce stakeholders, and academia.