A new report on Data-Driven Development in the Information and Communications for Development series
The Information and Communications for Development series takes an in-depth look at how digital technologies are affecting economic growth in developing countries. This new report, produced by the World Bank's Digital Development and Finance Competitiveness and Innovation Global Practices, is the fourth in the series and examines the topic of data-driven development, or how better information makes for better policies. The objective is to assist developing countries in unlocking the value of the data they hold for better service delivery and decision making and to empower individuals to take more control of their personal data.
Over 90% of data that exists today was created in the last two years. The digital economy has become more information intensive, and even traditional industries, such as oil, automobile manufacture and financial services, are becoming data-driven. We are undoubtedly experiencing a data revolution in which our ability to generate, process, and utilize information has been magnified many times over by the machines that we increasingly rely upon.
"Smart use of data holds an immense development potential that is already available to governments, businesses, and citizens. This report will help realize these opportunities to boost economic growth, reduce the digital divide, and bring better services and benefits to the people who need them most," said Boutheina Guermazi, Director of the World Bank's Digital Development Global Practice.
But who benefits from all this?
How can governments extract value from data to improve service delivery in the same way that private companies have learned to do for profit? Is it feasible for individuals to take ownership of their own data and to use it to improve their livelihoods and quality of life? Can developing-country firms compete with the internet majors on their own turf and be even more innovative in their use of data to serve local customers better?
People and Data
Decisions based on data can greatly improve people's lives. Data can uncover patterns, unexpected relationships and market trends, making it possible to address previously intractable problems and leverage hidden opportunities. For example, tracking genes associated with certain types of cancer to improve treatment, or using commuter travel patterns to devise public transportation that is affordable and accessible for users, as well as profitable for operators.
Data is clearly a precious commodity, and the report points out that people should have greater control over the use of their personal data. Broadly speaking, there are three possible answers to the question "Who controls our data?": firms, governments, or users. No global consensus yet exists on the extent to which private firms that mine data about individuals should be free to use the data for profit and to improve services.
User's willingness to share data in return for benefits and free services – such as virtually unrestricted use of social media platforms – varies widely by country. In addition to that, early internet adopters, who grew up with the internet and are now age 30–40, are the most willing to share (GfK 2017).
Are you willing to share your data? (source: GfK 2017)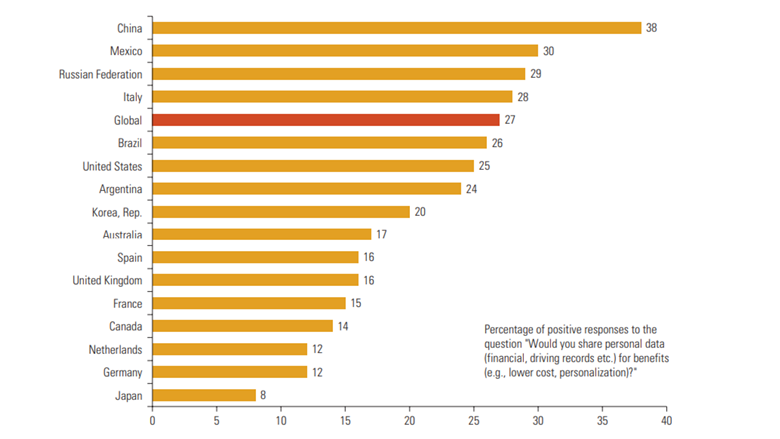 On the other hand, data can worsen the digital divide – the data poor, who leave no digital trail because they have limited access, are most at risk from exclusion from services, opportunities and rights, as are those who lack a digital ID, for instance.
Firms and Data
For private sector firms, particularly those in developing countries, the report suggests how they might expand their markets and improve their competitive edge. Companies are already developing new markets and making profits by analyzing data to better understand their customers. This is transforming conventional business models. For years, telecommunications has been funded by users paying for phone calls. Today, advertisers pay for users' data and attention are funding the internet, social media, and other platforms, such as apps, reversing the value flow.
Governments and Data
For governments and development professionals, the report provides guidance on how they might use data more creatively to help tackle key global challenges, such as eliminating extreme poverty, promoting shared prosperity, or mitigating the effects of climate change. The first step in developing appropriate guidelines for data sharing and use, and for anonymizing personal data. Governments are already beginning to use the huge quantities of data they hold to enhance service delivery, though they still have far to go to catch up with the commercial giants, the report finds.
Data for Development
The Information and Communications for Development report analyses how the data revolution is changing the behavior of governments, individuals, and firms and how these changes affect economic, social, and cultural development. This is a topic of growing importance that cannot be ignored, and the report aims to stimulate wider debate on the unique challenges and opportunities of data for development. It will be useful for policymakers, but also for anyone concerned about how their personal data is used and how the data revolution might affect their future job prospects.
This report was supported by the Digital Development Partnership (DDP), an initiative led by the World Bank and dedicated to digital innovation and development financing. DDP is supported by Denmark, Finland, GSMA, Japan, Korea, Microsoft, and the UK.