Promoting Inclusive Digital Development in the Caribbean
The rapid digital advances of our era increase the probability of deepening the digital divide between those who can benefit from these developments, and marginalized and vulnerable groups who struggle to do so.
The Caribbean Digital Transformation Project, a collaborative effort by the Governments of Dominica, Grenada, Saint Lucia, St. Vincent and the Grenadines and the Organization of Eastern Caribbean States, seeks to increase access to digital services, technologies and skills by governments, businesses and individuals. The project is unique in the way which it has embraced the challenge of engaging those often left behind. Its commitment to social inclusion has expressed itself in special efforts to target underserved groups in Dominica as well as Saint Lucia.
Equipping the Kalinago People in Dominica with digital skills
To offset some of the economic and social disparities that often affect the Kalinago people – an indigenous group in the Caribbean Island of Dominica – but also to enhance their access to information, freedom of speech and opportunities for political participation, the project intentionally targeted this community for a digital skills training program in 2022 and 2023. As a result, over seventy-five Kalinagos gained digital skills.
One of the seventy-five was 41-year-old Reachel Darroux who lives within the Kalinago Territory. Reachel described her training experience as enlightening, sharing "I learned how to manage files, and to do transactions safely online but, most of all, I enjoyed formatting documents in Microsoft Word. I can now manipulate a computer better. Thanks to the Digital Caribbean Transformation Program for making for making me as a Kalinago woman more tech savvy."
The project also established a Digital Innovation Hub in St. Cyr, Kalinago Territory, and provided students with tablets to assist with blended and online learning. According to the Director of the Project Implementation Unit for the project in Dominica, Jermaine Jewel Jean-Pierre:
"The hope is that the Kalinagos will be able to utilize their digital skills to support long-term business opportunities and the region's tourism potential, while preserving their traditions. For instance, they will now have the skills to set up online stores where tourists and others can pre-select and pay for craft items. They can sell online tours of the Kalinago Territory, cultural events, cultural icons, sites, etc."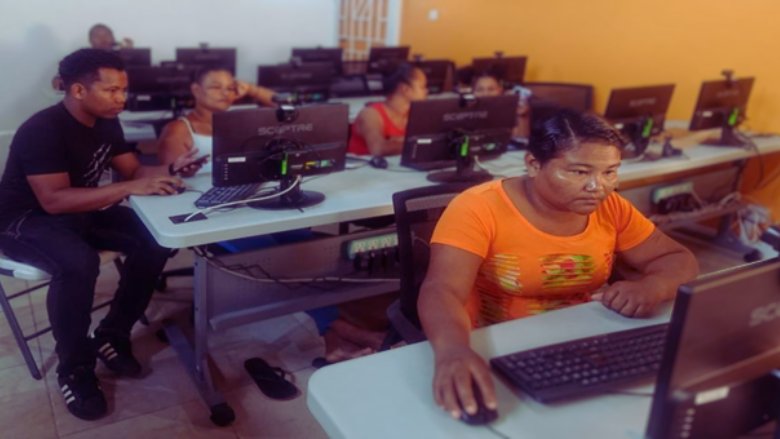 Empowering blind and low-vision children to explore the digital world with confidence in Saint Lucia
In Saint Lucia, the project travelled the extra mile by collaborating with the Saint Lucia Blind Welfare Association. Together, they launched an initiative to provide a certified digital literacy training for blind and low-vision children and teenagers. Jessica Jacobi, facilitator of the training program, said:
"As the facilitator, as someone who is blind, it makes me feel very humbled because growing up as a student, I was not exposed very early to what our students are being exposed to …. Often, our students… do not have the necessary facilities, devices, or assistive technology to use. Teaching them digital skills will help them better navigate their education, and I hope they will be able to go further in the employment world out there after the end of secondary school."
The project's success in engaging often-overlooked groups should serve as a provocative call to action for all development projects. Too often, vulnerable communities are left behind because they are perceived as difficult to engage.
Marolla Haddad, World Bank's Task Team Leader for the project shared that the project plays an important role in promoting social and economic inclusion. She stated, "CARDPT is supporting the development of a government service and payment platform along with capacity building to the vulnerable population, enabling them to access and use these online services. The widespread use of technology should be accompanied with purposeful actions to close the digital gap and consequently aim at empowering the most vulnerable and strengthen their effective participation in the economy and in government decision making."
The Caribbean Digital Transformation Project has set a powerful precedent for inclusive digital transformation within the region by proving that with determination and creativity, the digital divide can be bridged for everyone.
Expanding equitable opportunities is at the core of the World Bank's work to build sustainable, inclusive communities, and design a future where all can thrive, regardless of their background or abilities.