Building More Affordable and Reliable Internet Access in the Arctic
By Natalie Campbell
Senior Director, North American Government and Regulatory Affairs
Sharayah Lane
Senior Advisor, Community Connectivity
Last August, Canada's Northwest Territories experienced great success along with great tragedy. The remote community of Ulukhaktok launched the Arctic's first community network in the midst of Canada's worst forest fire season on record. These contrasting events shed critical light on the importance of lowering barriers to access and preventing Internet fragmentation.
As smoke and flames swept across the Northwest Territories, several communities were forced to evacuate their homes. Many temporarily lost Internet and mobile communications completely due to infrastructure damage to the fiber optic line. But even the few who did have a low-Earth-orbit (LEO)-based Internet connection could not share critical news updates over their favorite social media site due to Meta's decision to stop news services in response to the Online News Act. (Read about how the Online News Act contributes to Internet fragmentation in Canada.)
Meanwhile, the community of Ulukhaktok celebrated the launch of a DIY Internet access solution that offers universal access and—if replicated in other communities—would contribute to local Internet resiliency and help prevent people from losing access to the Internet when they need it most. We were grateful to have had the opportunity to be a part of this celebration.
Finding An Affordable and Reliable Solution in a Remote Location
Canada's Northwest Territories has 33 communities, many of which are home to First Nations, Inuit, and Métis individuals. The territory's vast geography and remote nature of many of the communities has made it difficult to introduce fast, affordable, and reliable Internet due to expensive costs of infrastructure and a lack of economic incentive to build robust infrastructure in the far North.
When we first met with residents in Ulukhaktok in 2019, the community was still reliant on satellite-based Internet, which was slow, unreliable, and very expensive. Upon learning about their interest in developing a community-driven Internet access solution, the Internet Society worked in partnership with the Inuvialuit Regional Corporation, the Ulukhaktok Community Corporation, and the Hamlet of Ulukhaktok to better understand the community's unique needs, host community network technical training sessions, and identify and build a technical solution that would meet the community's unique needs for connectivity. In 2022, the University of Washington joined the team to support in terms of funding, technical equipment, and resources to build the network.
The technical solution involved using a LEO connection as backhaul for the network, which was then distributed throughout the community over a mobile network that community members could access for free with a custom SIM card. This technical solution is just a starting point for open access to fast, affordable, and reliable Internet, and it can keep getting better with new sources of access to complement the resiliency and speed of the network.
A Resilient Community Builds Resilient Internet Access
One of the most inspiring parts of this project was the relentless determination of partners to achieve the goal through some significant challenges. While travel restrictions during the pandemic delayed the project, neither the community of Ulukhaktok nor its partners ever gave up on the goal of making sure affordable, high-speed Internet access was available to everyone. It is this resilience and tenacity that made this community network launch and August 18 celebration such a meaningful success.
The celebration was also made possible thanks to the enthusiastic support of sponsors, including Baicells and Air North. The community feast attracted many Elders, local leaders, and community members to participate in the demonstration on how to use SIM cards and smartphones to access the community network.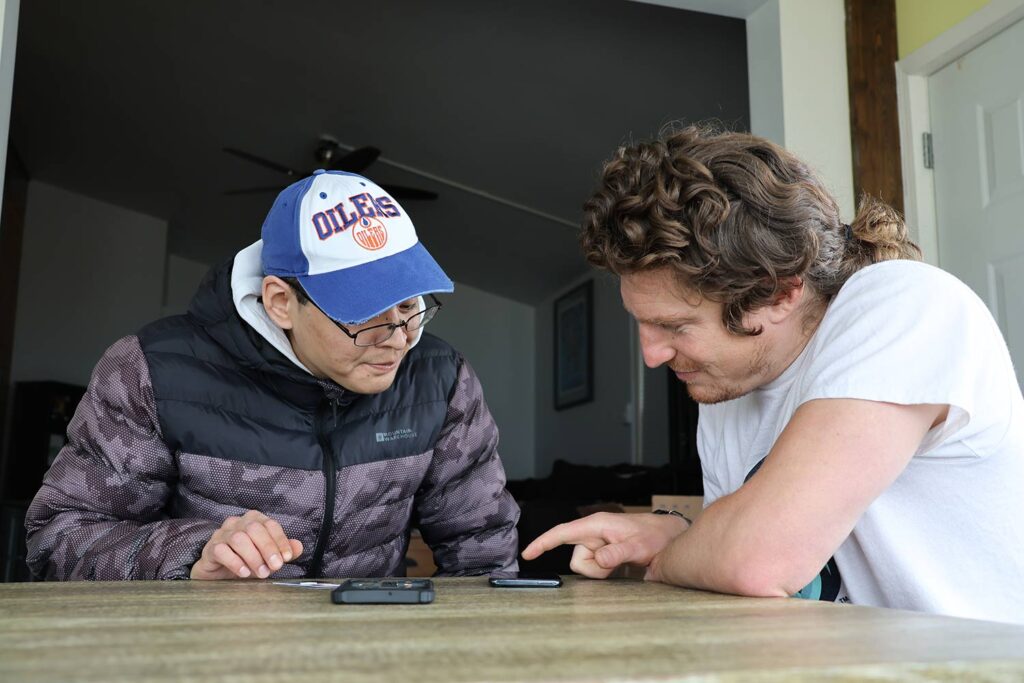 Another major takeaway from this success is how community-driven efforts can make huge strides toward digital equity and Internet resiliency in Indigenous communities. This LEO-based community network solution is relatively easy and affordable to build—and seriously worth considering replicating in every community in the Northwest Territories.
Had more communities in the Northwest Territories had this kind of open network with an alternative means of connectivity to traditional fiber or satellite backhaul, it could have prevented the loss of Internet access that hindered many community efforts to evacuate during forest fires.
Within the same week of the launch and forest fire evacuations in the southern part of the territory, many Ulukhaktok residents were already on the network and using it to stay in touch with family members and loved ones affected by the emergency.
The Impacts of Reliable Internet Access
While there are a million reasons why people benefit from the Internet, one of the most common answers you'll hear in Ulukhaktok is to "check the weather". While this may seem trivial to many of us, the Inuvialuit community is still very much reliant on hunting and gathering as a traditional means for food security. That means a journey over water and land, which can be tricky without communications and the ability to know what kind of weather to expect, has critical implications for the people who have lived and thrived in this community since time immemorial.
Now I'm able to see exactly where [my daughter] is…She can show me a live stream with FaceTime with her and it's reliable. In 2019 it would have been a lot of cutting out.

Laverna Klengenberg, Ulukhaktok former mayor
This response also provides an important lesson for anyone working on bringing Internet access to communities. Sometimes, our best idea for how Internet access will most impact and benefit a community may not be as standardized as we think.
As Ulukhaktok shared, when we come alongside as partners in this work, we get to watch a community make the Internet their own and reflect their core values and needs in the way it is used.
Everyone deserves reliable and accessible Internet. Support our mission to protect and grow this essential resource. Donate today.