Least developed countries still lag behind in cyberlaw reforms
Sound laws and efficient enforcement mechanisms are more urgent than ever following increased cybercrime and online fraud during the COVID-19 pandemic.
Despite some progress, many least developed countries (LDCs) still lag behind in cyberlaw reforms, according to the UNCTAD Cyberlaw Tracker released on 24 February.
This has negative implications for cross-border data flows, trade and digitalization.
The tracker shows that LDCs that have adopted privacy and data protection laws rose from 43% in 2020 to 48% in 2021, while those with laws on consumer protection online increased from 40% to 41%.
While many developing countries (79%), including LDCs (70%), have adopted laws on cybercrime, fewer than half of the LDCs have legislation on privacy.
"The years 2020 and 2021 were exceptional, with industries being severely impacted in every corner of the globe," said Shamika N. Sirimanne, UNCTAD's director of technology and logistics.
"The escalation of cybercrime and online fraud during the COVID-19 pandemic makes the adoption of sound laws, coupled with efficient enforcement mechanisms, ever more urgent," she said.
For e-commerce to continue to grow, Ms. Sirimanne said, consumers and businesses must be protected when they shop online in the same way as when they buy goods in a store.
The increased global use of data by businesses and consumers opens opportunities for private and social value creation, but it also brings risks related to privacy breaches and cybercrime attacks, she warned.
Progress reported across countries
UNCTAD's tracker shows progress in countries at all levels of development (see Figure 1). Last year saw the adoption of new cybercrime laws in Fiji, South Sudan and Zambia and data protection legislation in Botswana, Rwanda, Uganda, Zambia and Zimbabwe.
Austria, Cambodia and the Russian Federation reported updates to their data protection and privacy laws.
Legal reforms on consumer protection and e-transactions took place in Argentina, Chile and Slovenia, while Portugal reported new legislation on e-transactions.
In addition, some countries have bills awaiting legislative approval. They include Kenya and Yemen (on cybercrime), Burundi and Lao People's Democratic Republic (on consumer protection) and Eswatini, Gambia and Tanzania (on data protection­).
Cyberlaw adoption in least developed countries, other developing and developed nations in 2021, share of countries, per cent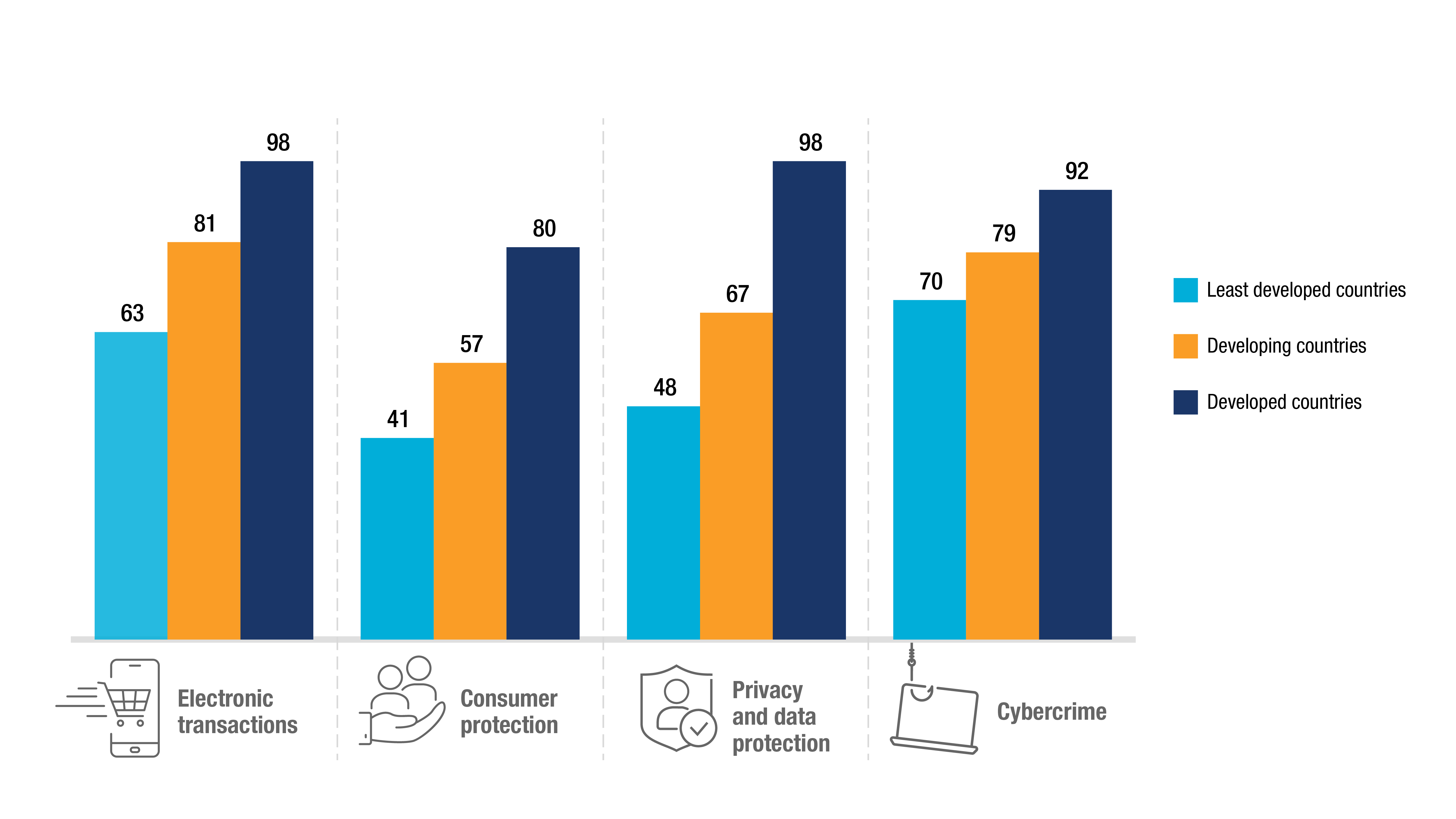 Source: UNCTAD 2021
Need for better enforcement capacity
Although countries have made significant progress in adopting cyberlaws, especially those on data protection, many of them need better capacity to effectively enforce the laws.
By the end of 2021, 71% of countries had adopted such legislation, up from 55% in 2015.
During the same period, the share of countries with laws on cybercrime and consumer protection rose by 9 percentage points, and those on electronic transactions by 6 percentage points.
UNCTAD surveyed more than 60 countries on cyberlaw adoption from July to October 2021. It also consulted international organizations and experts.
Supporting developing countries on e-commerce legal issues
Since 2003, UNCTAD has strengthened the capacity of policymakers and lawmakers in more than 60 developing countries to better understand legal issues pertaining to e-commerce.
It has also helped countries to establish and effectively implement domestic and regional e-commerce legal frameworks to enhance trust in online transactions.
UNCTAD has urged governments to streamline laws related to data protection, cybercrime laws and consumer protection to align them with regional and international minimum standards to ensure cross-border coordination.
It has also recommended the establishment of efficient regulatory enforcement authorities, and once laws are adopted, the sensitization of consumers and businesses to build trust in both domestic and cross-border online transactions.
More than 60 countries took part in UNCTAD's cyberlaw adoption survey conducted from July to October 2021.
UNCTAD also consulted international organizations and experts, including the UN Commission on International Trade Law, the UN Office on Drugs and Crime and Graham Greenleaf, professor of law and information systems at the University of New South Wales in Australia.