Digital twins are virtual models of real-world objects – and a stepping stone to the metaverse.
They are being used to experiment with objects or environments to see how they might function better, with the improvements then being applied in the real world.
The market for digital twins is forecast to increase tenfold in key industries this decade, led by manufacturing, automotive and aviation.
Digital twins are also making an impact in city planning, helping the world's megacities work towards sustainable, low-carbon living.
In 1949, the one-time crocodile hunter and economist Bill Phillips built a machine that simulated the dynamics of the British economy. His two-metre tall contraption used pipes, valves, tanks, pumps and water to model a range of economic variables. By opening and closing valves, the flow of the water would change to show, for example, how interest rate rises might affect savings and investments. Philips' machine was quickly adopted not only at universities, but also by large companies across the globe.
You could say that the ''Moniac" was the analogue forerunner of modern digital twin technology.
What is a digital twin?
Digital twins are mathematical models that recreate a physical object or system. This could be a factory, a power plant or even a ski resort, to name just a few possibilities.
A variety of sensors installed on and around the real-world object record data about different aspects of its performance. This could include things such as energy output, temperature, weather conditions – any information that is relevant and recordable.
With the help of artificial intelligence (AI) and machine learning, the digital twin can analyze performance issues or run virtual "what if" simulations – similar to Phillips' Moniac. The data and discoveries can subsequently be applied to the real-world object.
The big difference from traditional simulations is that digital twins use real-time data for their modelling. This enables experimentation with large objects or projects that don't typically lend themselves to real-life experimentation due to their size – think buildings, jet engines or manufacturing sites.
By the mid-2020s, the global market for digital twins in the manufacturing industry alone is expected to reach more than $6 billion. That's more than a tenfold increase from 2020, according to data from Statista.
STORY HIGHLIGHTS
A growing number of countries want to participate in carbon markets to meet climate change goals.
Jordan has become the first developing country to build end-to-end digital infrastructure to track and transact reductions in global greenhouse gas emissions.
The next two global climate change meetings will take place in the Middle East and North Africa: COP27 in Egypt in 2022; and COP28 in United Arab Emirates in 2023.
For decades, carbon markets have been seen as part of the solution to climate change. They have mostly been dominated by the private sector, but this will soon change. More than two thirds of countries are planning to use carbon markets to meet their Nationally Determined Contributions (NDCS) to the Paris Agreement. Countries such as Chile, Ghana, Jordan, Singapore and Vanuatu are already building end-to-end, state-of-the-art digital infrastructure to support their participation in international carbon markets.
These innovative digital solutions are fast evolving as a new international carbon market nears reality. Delegates at the 2021 global climate change meeting, COP26 in Glasgow, approved Article 6 – the Paris Agreement's rulebook governing global carbon markets. The approval gave the green light to a market where countries can trade carbon credits generated by the reduction or removal of greenhouse (GHG) emissions from the atmosphere — such as by switching from fossil fuel to renewable energy or by increasing or conserving carbon stocks in ecosystems such as a forest.
Reducing GHG emissions is becoming urgent as countries around the world experience the intensifying impacts of climate change. "The pace of decarbonization and adaptation needs to be accelerated and carbon markets provide an option to offset the costs of moving away from fossil fuels and towards a green economic transition," said World Bank Senior Energy Specialist Monali Ranade.
Carbon markets help mobilize resources and reduce costs to give countries and companies the space to smooth the low-carbon transition. It is estimated that trading in carbon credits could reduce the cost of implementing NDCs by more than half – by as much as $250 billion by 2030. Over time, carbon markets are expected to become redundant as every country gets to net zero emissions and the need to trade emissions diminishes.
Under Article 6, countries will be able to cooperate in different ways to achieve their climate goals. The key to successfully reducing global GHG emissions through carbon markets could be digital infrastructure that keeps verified data secure and ensures that reductions are accurately accounted and tracked.
The key to successfully reducing global GHG emissions through carbon markets could be digital infrastructure that keeps verified data secure and ensures that reductions are accurately accounted and tracked.
This digital infrastructure comprises Monitoring, Reporting and Verification (MRV) systems with GHG emissions and emission reductions data linked to national or international Registries. New and fast evolving technologies– such as blockchain technology – can further help ensure transparency and that carbon credits can only be claimed by one country: either the country that avoided or removed the GHG emissions, or the country that bought it in the form of a carbon credit for different uses.
Jordan's Pioneering Path to Addressing the Climate Crisis:
The country is facing significant climate challenges: temperature increases, precipitation decreases, increased incidents of drought and water lost to evaporation. At the same time, it remains heavily dependent on fossil-fuel imports, with limited natural resources and extremely scarce water supply for a population of 10.3 million that includes more than a million refugees. Extreme heat and water scarcity are driving up energy demand, creating fiscal burden and affecting economic competitiveness.
It was the first developing country to build MRV and GHG Registry systems to international standards that are the key building blocks for future emissions trading working with the World Bank's Climate Warehouse program and Partnership for Market Implementation (PMI) to develop and test this digital infrastructure.
To prepare for its MRV system, Jordan enacted a climate change bylaw in 2019 setting the institutional and regulatory framework on climate change across the government. With the help of PMR, the precursor to PMI, Jordan set up its MRV system to track emissions in sectors such as energy, transport, and agriculture, calculate emissions and emission reductions, and tag the results to its NDC. Its registry system was set up to support the transaction process of eligible projects in the international carbon markets. Amid this process, it was decided to make the software open source and offered it to any interested country.
The work is also continuing in Jordan. The country is formulating a long-term, low-emission strategy to achieve sustainable, long-term, low-carbon economic growth. In 2020, Jordan launched a 10-year National Energy Sector Strategy to improve its energy mix and reduce carbon emissions by 10% in 2030, reducing its reliance on imports. Under a new project, the Jordan Inclusive, Transparent and Climate Responsive Investments Program For Results, the MRV system is expanded to 22 agencies and ministries. The project will help integrate climate change into decision-making and enable the country's MRV system to calculate emission reductions for climate-responsive projects to see if they are eligible for the carbon market.
---
MULTIMEDIA

VIDEO MAY 24, 2022
---
From Jordan to the MNA region and beyond:
"Jordan is a pioneer in the climate space," said World Bank Senior Climate Change Specialist Harikumar Gadde. "Jordan is the first developing country in the world to have this kind of comprehensive system. Its MRV system is of such high quality that we are standardizing it to enable its implementation in other countries under our new initiative, the Partnership for Market Implementation."
The system is already being replicated for West Bank and Gaza and Sri Lanka with the PMR's help. Many other countries in the Middle East and North Africa region, Africa, Latin America and Asia have expressed interest in the open source MRV and registry systems.
More is also happening in MENA region – host of the next two global climate change meetings: COP27 this November in Sharm el-Sheikh, Egypt, and COP28 in the United Arab Emirates in 2023. Countries including Saudi Arabia, Oman, United Arab Emirates, and Bahrain have announced net zero targets. Saudi Arabia's Public Investment Fund and the Saudi Tadawul Group, which owns the Saudi Exchange, have launched the Riyadh Voluntary Exchange Platform for the trade of verified, approved, and high-quality carbon credits and credits produced in the region.
This story focuses on themes of Innovate4Climate, the World Bank Group's preeminent global event on climate finance, climate investment and climate markets.
While digital technologies have offered "boundless opportunities" for sustainable development, education and inclusion, the UN political chief warned on Monday that there is also a clear downside.
"We have a critical opportunity to build consensus on how digital technologies can be used for the good of people and the planet, while addressing their risks," Rosemary DiCarlo, Under-Secretary-General for Political and Peacebuilding Affairs, told the Security Council.
"But collective action by Member States remains essential towards this goal".
Digital technologies for good
She noted that social media has transformed human rights and humanitarian advocacy, "making it possible to mobilize people around the world quickly and efficiently around issues requiring urgent action".
In maintaining peace and security, technical developments have improved the ability to detect crises, better pre-position humanitarian aid, and create data-driven peacebuilding tools, she said.
And in conflict prevention, new digital tools have strengthened peace-making and peacebuilding, providing better information and early warning data, Ms. DiCarlo added.
She pointed to the UN Mission to Support the Hudaydah Agreement (UNMHA) in Yemen, which uses mapping and satellite technology to enhance ceasefire monitoring and increases the UN's ability to "understand, analyze and respond to crises that may have a digital dimension, and…address digital risks".
Political assistance
Furthermore, new technology can support political processes, particularly in promoting inclusion.
"In various peace negotiations, we have used artificial intelligence (AI)-assisted digital dialogues to reach out to thousands of interlocutors, to hear their views and priorities," she said.
"This has been a particularly useful way to reach traditionally excluded groups, including women".
Safety and security
They can also improve the safety and security of peacekeepers and civilian staff on the ground.
"The launch of the Strategy for the Digital Transformation of Peacekeeping represents an essential step towards this goal, and towards more effective mandate implementation – increasing early warning capacities," said the political chief.
These tools also help visualize information and convey data-rich analysis to inform Security Council decisions – as illustrated by a recent virtual reality presentation on Colombia, highlighting the UN's work on the ground for ambassadors.
Worrying trends
However, there are areas of concern, Ms. DiCarlo continued, citing estimates that the number of national and non-State-sponsored incidents of technology being used maliciously, has nearly quadrupled since 2015.
"Of specific concern is activity targeting infrastructure that provides essential public services, such as health and humanitarian agencies," she said.
At the same time, lethal autonomous weapons raise questions regarding human accountability when force is used.
Echoing the Secretary-General, she called machines with the power and discretion to take lives without human involvement, "politically unacceptable, morally repugnant, and should be prohibited by international law".
"Non-State actors are becoming increasingly adept at using low-cost and widely available digital technologies to pursue their agendas," warned the UN official, highlighting that terrorist groups such Al-Qaida are actively using social media platforms to recruit, plan and fundraise.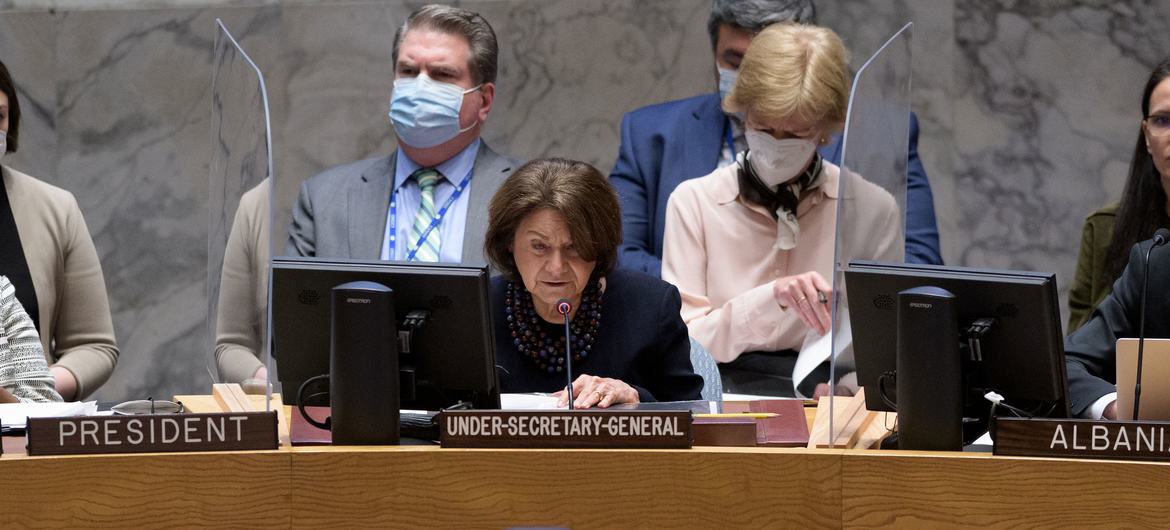 UN Photo/Manuel Elías | Rosemary DiCarlo, Under-Secretary-General for Political and Peacebuilding Affairs, briefs the Security Council meeting on technology and security under maintenance of international peace and security.
Mounting challenges
From surveillance technologies that can target communities or individuals, to potentially discriminatory AI, she drew attention to the human rights implications of new tech.
"We are also concerned about the increasing use of internet shutdowns, including in situations of active conflict, which deprive communities of their means of communication, work, and political participation," said Ms. DiCarlo, recalling Myanmar, in which these incidents have grown in number and duration since the military coup last year.
Moreover, she continued, social media can fuel polarization and violence by spreading disinformation, radicalization, racism, and misogyny – heightening tensions and exacerbating conflict.
"In Ethiopia, as the fighting escalated, there was an alarming rise in social media posts spreading inflammatory rhetoric, with some going as far as inciting ethnic violence," the senior UN official reminded the Council. "We also know that disinformation can hinder the ability of our missions to implement their mandates, by exacerbating falsehoods and fuelling polarization".
Moving forward
While embracing the opportunities that new technology provides to advance peace, the risks must be mitigated and responsible use promoted by all.
Driven by the Plan of Action on Hate Speech and communication initiatives such as Verified, the UN is acting to allay these dangers by avoiding misperceptions and misunderstandings, Ms. DiCarlo told the meeting.
"However, more must be done," she concluded, spotlighting the Global Digital Compact, which would outline shared principles for an "open, free and secure digital future for all"; the New Agenda for Peace, which takes a holistic view of global security' and the proposed Code of Conduct for Integrity in Public Information.
Digital rights
Briefing virtually, Nanjala Nyabola, Director of Advox, the Digital Rights Project of the online community, Global Voices, highlighted the need for upholding and enforcing digital rights.
"In the last two decades we have witnessed a dramatic expansion in the use of digital technology," she said, however, it has "unfortunately not been complimented by a similar investment in protecting ourselves from the harms that the expansion has caused".
The speed of technological progress has created problems that could have been prevented at an earlier stage, said Ms. Nyabola, calling for a broad moratorium on new surveillance technologies.
She turned the Council's attention to digital access policies and internet shutdowns, underscoring how they negatively impact cultural and economic minorities and pose obstacles to women's access.
"Digital rights are human rights," she said, adding that users must be protected.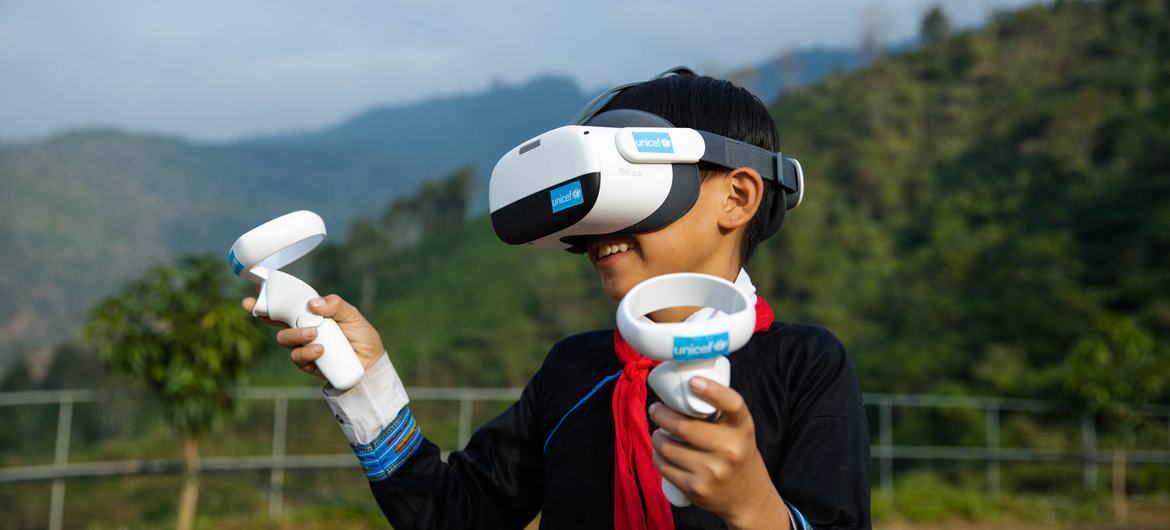 © UNICEF/Hoang Le Vu | A student uses AVR technology at school in Lao Cai province, Viet Nam.
Improving peacekeeping
Dirk Druet, Adjunct Professor at McGill University's Centre for International Peace and Security Studies, highlighted sophisticated monitoring and language-translation technologies that can improve peacekeeping effectiveness and protection.
He urged the UN to take a more deliberate truth-telling role in conflict zones and reminded that peacekeeping operations must forge their own digital technology protocols beyond those of the States they support.
Finally, Mr. Druet maintained that for local constituencies, truth-telling is directly tied to trust-building, advocating for an increased capacity to monitor and engage the "information landscape" in conflict zones.
Central Bank Digital Currencies are becoming more and more interesting for governments as effective ways of managing the digital economy. Most central banks have not begun implementation of the currency as concerns remain.
An important success factor for the future of a CBDC regime is cooperation between the public and private sector.
Participation of the private sector in developing, testing and deploying a CBDC will have several benefits and will become more important as CBDCs could play a huge role in the future of financial systems.
This month the Digital Currency Governance Consortium held an expert roundtable discussion on central bank digital currencies (CBDCs) to reflect on the work done so far and to identify areas that require further research. The workshop brought together experts from international organizations, central banks, the private sector, academia, and civil society activists.
While discussing the subject of CBDCs, the experts referred to a number of issues, ranging from the need to define precise objectives for issuing a CBDC, the various trade-offs in designing such a CBDC, and finally, the need for cooperation between public and private sector.
Until now, CBDCs have captured the attention of central banks, so much so that over 90% of countries are researching and exploring the concept. The ramp-up in interest has tripled since 2020, however, this has not translated to an increased rollout of launches. The countries that have fully launched CBDC include the Bahamas, the Eastern Caribbean nations, and Nigeria. However, most countries are at varying levels of progress, having either announced pilots, proof of concepts, or mere interest in researching the need for a CBDC.
Why have countries held off from central bank digital currencies implementation?
There are several areas of further exploration when it comes to CBDCs including privacy, security, interoperability, financial inclusion, technology considerations, and other concerns. Given the number of outstanding areas that require examination, many countries are taking a wait-and-see approach.
Several jurisdictions have voiced a desire to conduct research and experimentation on CBDC, but to withhold full rollout until more of these questions are understood. The implementation of central bank digital currencies has a long-term impact on the economy, so accordingly, it should be created with sufficient resources and time to get it right. In addition, technology choices today will impact the future of the financial system. Thus, whether a distributed ledger technology (DLT) solution should be used needs to be decided and if so, the type of DLT needs to be carefully considered. Overall, the adoption of a CBDC would be foundational and the impacts and unintended consequences should be prudently measured.
What does successful implementation mean?
For an implementation to be successful, it is imperative that a CBDC has a strong value proposition prior to implementation. These questions need to be answered beforehand: Why is a CBDC being released? What are the policy objectives and the trade-offs in achieving the aforesaid policy objectives, subject to local requirements? What design choices will address the aforesaid policy objectives to the greatest extent possible?
These are just some of the questions that central banks need to consider before embarking on implementing a central bank digital currency. There are several digital currency alternatives as well as advancements in the payments and financial market infrastructure that are available as another possibility to improve efficiencies. As such, the CBDC must have a concrete value and effectiveness beyond the other innovations.
The adoption of a CBDC among jurisdiction members is dependent on the design choices. The level of adoption will demonstrate the success of a CBDC and under subscription of the digital currency will undermine the purpose of adoption. The end-user must be consulted and considered in the design process to ensure suitable usage.
Based on the current state of CBDC adoption, there is continued interest in the exploration, experimentation, and piloting of CBDC solutions. Before countries become comfortable with fully launching a CBDC, the interim period can be used to work on multi-jurisdictional dialogues and cooperation in order to create regional interoperability. Another key step will be to work on a common set of standards for CBDC, which will provide foundational underpinnings.
The case for public-private collaboration
Among the most important success factors that could determine the future central bank digital currencies regime is multi-stakeholder engagement from the public and private sectors. Although central banks and governments have a key role to play for CBDCs, the private sector has several touchpoints that may enhance the CBDC ecosystem.
When analyzing the countries that have launched CBDCs and piloted solutions, several have incorporated the private sector. Central banks and governments can focus on the issuance of the digital currency and cooperate with private firms on the other aspects for which they have strong competencies.
---
Currently, central bank digital currencies may be developed solely by the central banks or in close cooperation with the private sector. The latter model may vary in terms of the different roles that the private sector may play in issuing, settling, consumer protection requirements, anti-money laundering compliances and front-end enablement.
What benefits would public-private collaboration bring for the implementation of CBDCs?
Participation of the private sector in developing, testing and deploying a CBDC will have several benefits, some of which were discussed during the CBDC Workshop:
Promote innovation: Public-private partnerships have been used in various sectors to drive innovation and accessibility. While government/regulators/central banks should increase their monitoring and supervision capabilities, the private sector can help speed up the rate of innovation by supporting with compliance, appropriate design choices for various composable elements of central bank digital currencies, and being implementation partners.
Increase interoperability: For a CBDC to maintain the balance between being successfully adopted and to avoid the pitfalls of currency substitution, it is necessary that it should integrate smoothly with existing payment systems. Engaging and leveraging private sector expertise in formulating necessary standards and tech stacks would be crucial in ensuring both domestic and cross-border interoperability of CBDCs.
Incentivise digital and financial literacy: Educating the users of CBDC should be a top priority before implementation. With private sector involvement, it will incentivize the industry players to launch digital and financial literacy campaigns across various demographic groups. Without proper education and awareness, any CBDC implementation will fail to achieve the required objectives and will most likely, create more unintended consequences and risks.
Central bank digital currencies could play a role in the future financial system
The value of public-private cooperation in the context of CBDCs is promising. While collaboration is essential, it can lead to challenges, including but not limited to concerns with respect to data privacy, anti-trust regulation harmonization of cross-border rules and regulations. The discussions are ongoing and there is room for both the public and private sectors to contribute to a successful digital currency regime.
The discussion amongst stakeholders on the topic of CBDC will continue at the Annual Meeting 2022 on May 23 and will be livestreamed to the public. Join us in taking the conversation forward and understanding whether central bank digital currencies could play a role in the future financial system.
Many businesses in Kosovo's taxpayer registry have missing or invalid address information, and a significant share of individual businesses do not file tax returns in any given year, despite being registered as active enterprises. That level of noncompliance has serious costs for the country. It not only disrupts the government's ability to plan and produce accurate budget estimates, but also results in less revenue to fund much-needed investments in health, education, social protection, and infrastructure.
But without reliable taxpayer data, the Tax Administration of Kosovo (TAK) cannot verify if these businesses are inactive and neglected to deregister or simply ignore their tax filing obligations. And missing or incorrect addresses or other critical details for follow-up lead to inefficiencies in tax enforcement, audits, and investigations that tie up TAK's limited resources and staff and increase the administrative burdens on businesses.
Improving the quality of Kosovo's taxpayer registry is therefore essential to reducing informality and ensuring greater tax compliance. The World Bank is helping TAK in those efforts by providing technical assistance through the ongoing Enhancing the Quality and Scope of Taxpayer Registration (EQSTR) project.
In consultation with TAK and a wide range of government agencies, the EQSTR project has helped identify two major obstacles to improving the quality of TAK's taxpayer register: (1) limited motivation from businesses to voluntarily and timely update their information and (2) insufficient data sharing arrangements to allow more seamless information flows from other public registry agencies to TAK.
The World Bank, with the support of the Global Tax Program (GTP), is helping Kosovo to address these challenges, recommending and financing technical assistance related to digitalization and data sharing.
Digitalization: A Way Forward on Taxpayer Data
Existing processes to register, deregister, or update information in the business and taxpayer registers have placed a high compliance burden on businesses. Even minor updates of registration data require in-person visits to a Kosovo Business Registration Agency (KBRA) office. And businesses must initiate two separate processes to deregister, one with TAK and another with KBRA. But under current legislation, there are no penalties for failing to deregister or update taxpayer information in a timely fashion, so many businesses just ignore these obligations.
As identified through the EQSTR project, a key reform objective for TAK and KBRA is the creation of a fully digital, one-stop process for businesses registration, information updates, and deregistration. Moreover, the project has recommended a fully paperless certification process and imposing fines for violating requirements to update tax information. To underpin these recommendations, Kosovo has adopted the legal basis for the implementation of e-signature.
But the issue here is not just digitizing TAK's records. The integrity of data supplied to TAK by partner agencies—initially by KBRA and the State Address Register, but eventually by municipal agencies operating address registers—must also be ensured. The EQSTR project will assess over the coming months KBRA's requirements and capacity needs to introduce more proactive data management to verify and update business data. Likewise, with support from the World Bank, the State Address Register is establishing critical online links allowing for real-time verification of address information provided by a business.
Data Sharing Forum for Better Inter-Agency Cooperation
Digitalization involves more than just websites and servers. Kosovo's government agencies need to also develop a culture of openness and partnership to best manage and make use of digitized records. One key lesson from the EQSTR project is that a tax authority needs to cooperate with other government agencies to improve and sustain the quality of the taxpayer register. In June 2020, Kosovo established the Data Sharing Forum, which brings together general directors from TAK and other key public registries, to strengthen data exchange and inter-agency cooperation. The EQSTR project supported the establishment of the Forum by providing advice on governance arrangements and facilitating meetings and workshops.
While government agencies must do a better job communicating with each other, more emphasis and resources must also be placed on ensuring the business community understands and buys in to TAK's digitalization efforts. "Fostering a common understanding and acceptance of new business processes is important in digitalizing business and taxpayer registration," says Ilir Murtezaj, General Director of TAK. "An ongoing dialogue with counterparts facilitated through workshops and expert meetings as well as high level stakeholder consultations, is the key to create such understanding."
TAK will continue to build upon the lessons learned through the EQSTR project and work toward improving its taxpayer register. With continued support from the World Bank's Global Tax Program, TAK is working to expand the country's taxpayer net and further enhance its capacity to register informal businesses with non-negligible revenue potential—ensuring Kosovo has the fiscal resources to build a sustainable, inclusive future for its people.