E-resident Fabrice Amalaman's inspiring story about building PayQin, a mobile bank for Francophone Africa
PayQin is the brainchild of Fabrice Amalaman, a native of the Ivory Coast, or Côte d'Ivoire, a nation of 25 million in West Africa where the official language is French. While mobile banking solutions are available for Anglophone countries like Nigeria, Amalaman believed that there needed to be a solution for French-speaking Africans. PayQin was born, providing secure transactions using virtual cards for customers in the Ivory Coast, Senegal,  Cameroon, and Mali, run by an Estonian company headquartered in Tallinn's Karjamaa District.
It was the latest chapter in Amalaman's country-hopping life. Born in the Ivory Coast, he moved to Paris to study, working at EPI Capital and BNP Paribas in the investment sector, before moving to Stockholm and later Riga being part of the first Fintech batch accelaretor with Swedbank and Startup Wise Guys .
It was while in Stockholm that he decided to start PayQin. "I got the idea to build something for Africa, because I knew the problem of online banking there," he says. Indeed, many Africans do not have bank accounts and rely on mobile solutions, such as pay cards, for online transactions.
"Our product allows people who don't have access to financial services to generate virtual cards to pay online," says Amalaman, noting that soon they will be able to order physical plastic cards. Users can transfer funds within the four Francophone West African countries, free of charge.
"One of the interesting use cases we have is for small business owners who use our service to promote their businesses online," notes Amalaman. PayQin currently has about 70,000 users. "People are using it and it's growing."
PayQin was initially incorporated in London, but given the UK's exit from the European Union, and Amalaman's desire to operate the firm within the EU, he began to look around for alternatives.
"Brexit happened and at that point, Estonia was the easiest way to incorporate the company and manage it remotely," says Amalaman.
He adds that the company maintains an office in Abidjan, the capital of the Ivory Coast, and he is frequently working between the two countries, which made the suite of digital services made available via e-Residency a sensible decision for the firm.
Amalaman was also familiar with Estonia and had visited the country many times, to attend its Latitude59 startup conference, for example. PayQin OÜ was incorporated in Estonia in March 2020, and around that same time, Amalaman also applied for a startup visa, which allowed him to set up in the country. His e-Residency meantime was finalized by that summer and with the help of a Tallinn-based service called MoveMyTalent, he was able to find an apartment. "They did everything and it was quite straightforward," says Amalaman. He adds that after stints in Stockholm and Riga, settling into Estonia wasn't difficult. "I am very used to the weather and everything," he says. "It's more or less the same thing."
Amalaman is now laying the grounds for the European office of PayQin and has hired a growth manager in Tallinn and will soon hire more. In total, the firm has 17 employees.
Earlier this year, the company also raised €300,000 via a network of Estonian investors to support PayQin's growth. Amalaman says the company plans to launch money remittance from Europe soon, which will allow people in Europe to deposit money straight into their PayQin accounts. As noted, the firm also plans to make plastic cards available to users and is working with a local bank in Africa to do so.
While Amalaman's path to date has been mercurial, from the Ivory Coast to France to Sweden to Latvia and now Estonia, he says he has no plans at the moment to move on from PayQin just yet.
"It's never good to do one thing forever, but right now, I am 100 percent behind this idea," says Amalaman.
In celebration of World Standards Day 2021, celebrated on 14 October every year, the United Nations Industrial Development Organization (UNIDO) is pleased to announce the launch of a brochure, "Standards and Digital Transformation: Good Governance in the Digital Age".
In the spirit of this year's World Standards Day theme "Shared Vision for a Better World", the brochure provides insights into the key drivers of the digital transformation and its implications for sustainable development, particularly people, prosperity and planet. Noting the rapid pace of change of the digital transformation, with the COVID-19 pandemic serving as an unanticipated accelerator, the brochure highlights the role of standards in digital transformation governance. It further considers the principles necessary for guiding the collaborative development of standards in the digital technology landscape to ensure that the technologies remain human-centered and aligned to the goals of sustainability.
This year's World Standards Day theme highlights the Sustainable Development Goals (SDGs) representing a shared vision for peace and prosperity, for people and planet. Every SDG is a call for action, but we can only get there if we work together, and international standards offer practical solutions we can all stand behind.
This brochure is a summary of a publication set to be released in November 2021.
Download it here.
The United Nations Industrial Development Organization (UNIDO) organized a series of webinars and an on-site panel discussion within the framework of the third Eurasian Women's Forum held on 13-15 October 2021 in Saint Petersburg, Russian Federation.
Six thematic webinars focused on the following different aspects of women's role in the modern economy: women in post-COVID-19 recovery; women-led SMEs and start-ups; women in the attainment of SDG-9; women in research, development and innovation; the gender digital divide; and women in modern creative industries.
The six webinars had around 500 participants from all around the world. The objective was to take stock of the existing best practices and seek innovative solutions and particular policy actions targeting the most acute challenges to the economic empowerment of women in the digital age.
One of the speakers, Anita Bhatia, Deputy Executive Director for UN Coordination, Partnerships, Resources and Sustainability of UN Women, said, "We need to ensure that those who are designing technology are doing so through a gender-sensitive lens," adding, "Governments and policymakers need to ask themselves whether any women were sitting at the table when the decisions were made or initiatives designed."
The key takeaways from the webinars were brought to the on-site panel discussion at the third Eurasian Women's Forum. Moderated by UNIDO Goodwill Ambassador, Veronika Peshkova, the panel included policymakers, business leaders and representatives of international organizations and academia.
Elena Avdeeva, Member of the Federation Council of the Federal Assembly of the Russian Federation, said, "UNIDO and the Council of the Eurasian Women's Forum have cooperated in many activities within the framework of the Joint Declaration signed in 2019." She added, "New digital competencies are becoming an advantage on the labour market, and UNIDO with the Council worked together to establish a new education programme to develop the digital skills of women."
The participants also agreed that in order to bridge persistent gaps, it is crucial to start by upgrading existing ecosystems and advancing the global discourse around the role of women and girls in the global economy. Therefore, showcasing successful role models, promoting mentoring and peer learning, as well as further utilizing international platforms for continuous thematic dialogue, remain key tools for overcoming biases and nourishing inclusivity.
Fatou Haidara, UNIDO Managing Director, said, "The new digital age, which was given an impetus by the current COVID-19 crisis, entails a range of opportunities for narrowing the existing inequalities. The greater integration of women and girls in the context of Industry 4.0 has an ever-growing potential to help transform economies and foster the sustainability and resilience of families and local communities."
Additional details about the webinars and the panel discussion are available here.
Since 2018, with financial support provided by the Government of the Russian Federation, UNIDO has been implementing a project to foster women's economic empowerment, entrepreneurship and leadership in the region of Europe and Central Asia and beyond. UNIDO, together with its counterparts, has been carrying out networking, knowledge-sharing and capacity-building activities to support women's integration in the modern development landscape.
More information about the project and other activities is available here.
South Africa Post Office (SAPO) has created a new partnership with a United States-based online marketplace, Wish, to provide a faster, high-quality service to customers ordering products from the e-commerce site.
"The project ensures that SAPO remains relevant, active in the e-commerce space, and that our revenue increases," said Sekano Kgalenyane, the head of Logistics for SAPO. "It also makes us more top-of-mind to the customer."
SAPO approached Wish with the proposal to collaborate, Kgalenyane said, and negotiations led to the practical proposal that would provide good service levels.
The partnership with Wish was effective on May 9, 2021. It is the first partner of this nature for SAPO, Kgalenyane said, but its progress paves the way for other similar partnerships.
Key features of the Wish-SAPO collaboration, according to a press release, include an average of approximately 50 per cent faster transit times; end-to-end tracking visibility and delivery confirmation; bundled shipments for multiple items; and SMS and physical notifications when deliveries are ready for collection.
The collaboration has led to simpler and faster import, processing and customs clearance procedure for Wish.com items. This is because the items receive a South African tracking number at the point of posting, which facilitates tracking in the country.
When the acceptance scan at a branch is done, the customer automatically receives a message alerting him or her that the parcel is ready for collection.
"Wish.com has access to the entire process and can see exactly what the progress with processing each parcel is," Kgalenyane said. "It keeps us on our toes!"
The evidence of the partnership's success was highlighted in an article on the South African website Businesstech.co.za shortly after the SAPO-Wish collaboration launched.
The article discussed the website's recent test of three online shopping sites and their delivery experience.
The testers placed an order from Wish on May 10 and received a delivery estimate of the end of August.
"The biggest surprise comes from Wish," the article states. "Despite this long wait time, Wish sent an email notifying that the parcel had been delivered at the local post office on 26 May – just two weeks after it was initially ordered. … The impressive delivery from Wish is likely the result of a new deal that has been struck between Wish and the South African Post Office."
Kgalenyane said customers have already noticed vastly improved delivery timelines and it has been a great morale booster for SAPO employees, as well.
"E-commerce is the future for postal services," Kgalenyane said. "It's great to be part of the worldwide wave of new business. Wish.com has been remarkably understanding and easy to work with. We are very thankful for the opportunity to bring items from all over the world to South Africans, even those in remote rural areas."
This article first appeared in the Summer 2021 issue of Union Postale.
The co-convenors of the negotiations on e-commerce have urged participating members to intensity their efforts and to make further progress ahead of the WTO 12th Ministerial Conference (MC12) starting in late November. In the current global context and with the COVID-19 pandemic continuing, stakeholders are expecting this initiative to continue to yield results, they said at a plenary meeting held on 13 October.
Ambassador George Mina (Australia) said that the co-convenors — Australia, Japan and Singapore — are available to help drive convergence and they urged members to show flexibility in the negotiations. It is important for the initiative that the participants achieve the target of securing a package of 10 to 12 agreed articles for the future e-commerce agreement by MC12, and members should keep that in mind as they continue their discussions in small groups formats, he added.
Ambassador Mina said: "MC12 is not only an opportunity to deliver momentum but it is an opportunity for the group to present what we are doing to the world. The world's eyes will be on us at MC12 and we will be looked to as an important part of the rulemaking function of the WTO. We have a big opportunity to showcase what we're doing"
Ambassador Kazuyuki Yamazaki (Japan), a co-convener of the initiative, whose remarks were delivered by his deputy representative, welcomed the recent establishment of the two small groups on electronic invoicing and cybersecurity. He appreciated all the efforts the facilitators of small groups have been making to move the discussions forward by suggesting compromise proposals and showing flexibility. He hoped that members would maintain this momentum up until MC12 and beyond and achieve substantive progress.
Ambassador Yamazaki said he believes that the ongoing work in the small groups on open internet access, paperless trading, electronic transaction framework and electronic invoicing is very promising. He said the initiative should discuss important topics such as data-related issues and noted that the discussions on personal data protection in the plenary meeting were very relevant to members.
Reports from small groups and revisiting proposals
Facilitators of small group discussions reported on the work done in recent weeks to find common ground on proposals in the areas of source code, paperless trading, open internet access, and electronic transaction frameworks. The facilitators of the two recently-established working groups on cybersecurity and electronic invoicing also reported on the work these groups have begun on existing proposals.
Members also revisited proposals on two issues: the protection of personal information or data, and on information and communication technology (ITC) products that use cryptography. The proposals on the first topic aim at ensuring that the personal data of users of electronic commerce is protected, so that users' confidence in electronic commerce is enhanced as a result.
Ahead of the discussions on these two topics, Ambassador Yamazaki said that in the development of e-commerce activities, appropriate protection of personal information is essential. At the same time, transparency, predictability, and interoperability of applicable rules is also necessary for cross border e-commerce activities. This issue is a very important aspect of the negotiations on digital trade rules. Likewise, he noted, the topic of cryptography is also an important contributor to business trust in commerce.
The proposals on ITC products that use cryptography aim to make trade in these products less restrictive, with certain exceptions. Cryptography, or encryption, a feature widely available in ICT products such as tablets, smartphones, computers and software to ensure secure communications.
In his concluding remarks, Ambassador Hung Seng Tan (Singapore), co-convenor of the initiative, noted that issues of privacy and ICT products that use encryption are complex, and that the deep discussion members had at the plenary on this issue were necessary to foster better understanding and trust among members, as they formulate provisions that are meaningful for business and consumers.
On the upcoming Ministerial Conference, Ambassador Tan said that members should leverage MC12 as a milestone to showcase progress to stakeholders, in particular by achieving the target of 10 or 12 clean text articles. He urged members to finalise work in the small groups where a clean text is within reach. He added that it would be helpful to set a target for the negotiations that will guide members towards the finishing line and demonstrate to stakeholders that there is a resolve to conclude the negotiations in a timely fashion.
After MC12, ministerial involvement will be necessary to maintain momentum in the negotiations and ensure timely political guidance to resolve political issues, Ambassador Tan said.
THE FIRST EDITION OF IDB LAB FORUM WILL BE HELD FROM OCTOBER 26 TO 28 WITH THE OBJECTIVE TO PROMOTE INNOVATION FOR INCLUSION IN LATIN AMERICA AND THE CARIBBEAN.
The Inter-American Development Bank, through its innovation laboratory, IDB Lab, and in collaboration with IDB Invest, launch IDB Lab Forum, a high-level, global event with regional reach that puts innovative entrepreneurship at the center, highlighting how technology, digital solutions and new business models are improving lives in Latin America and the Caribbean. Microsoft has joined as a founding partner of this event, which will include the participation of important players in the innovation ecosystem. IDB Lab Forum will be held from October 26 to 28 and will be free and primarily virtual, although it will have a face-to-face component in Miami on the 26th.
Irene Arias Hofman, CEO of IDB Lab, emphasized that "IDB Lab Forum will play a key role for the region by providing a unique space for mobilizing business, ideas, and connections to develop and scale innovative solutions for an economic recovery that is inclusive, green, and resilient, in line with the Vision 2025 priorities defined by the IDB Group".
In the words of Mariana Castro, Vice President of Sales, Marketing, and Operations at Microsoft Latin America, "Our collaboration with the Inter-American Development Bank has always been focused on jointly accelerating the growth of Latin American markets through technological solutions. Today we are excited to be a part of the launch of the IDB Lab Forum, an initiative that represents a commitment to SMEs and Digital Native Companies of Latin America and the Caribbean, who accelerate the economy and social recovery of the region with their creation of new businesses and the use of new technologies. It is an innovative initiative that will promote the generation of ideas and strategies to outline a path towards digital maturity in the region."
Among the participants in the forum are founders of innovative ventures, managers of venture capital funds, executives of large companies, including technology companies, representatives of accelerators, universities and global innovation hubs, thematic experts, impact investors, policy makers and officials of public entities dedicated to promoting innovation.
The event will have different interaction points, such as panels, business meeting points, an ecosystem showcase, pitch sessions, and a launch platform for products and initiatives, among others. The agenda is divided into three blocks:
"Undertaking and Innovating," which will include practical content, visibility opportunities, ad networking spaces for entrepreneurs and the innovation ecosystem that supports them.
"Businesses that improve lives," which will include sessions on how new business models are having an impact on inclusion through sectors such as edtech, agtech, fintech, and healthtech, among others.
"Impact that scales," which will provide spaces for global and regional partners that connect innovations at scale.
Registration for the virtual sessions will remain open until the day of the event through the link: https://forum.idblab.org/en.
The UPU's World Leaders Forum had postal sector leaders gather online to discuss driving the Post's role in facilitating sustainable global trade.
Opening the forum, Deputy Director General Pascal Clivaz noted the day's theme – "One Ocean – Many Currents: Facilitating Sustainable Global Trade" – would have speakers touch on "the biggest issue of our time: climate change." He added it would also provide a chance to highlight the sector's response to the pandemic.
The Forum's first panel gathered industry insights from CEOs in different regions. They remarked that the pandemic had further accelerated the decline of the traditional letters business, forcing them to prioritize digitization and diversification, and manage services with fewer resources.
Singapore Post CEO Vincent Phang remarked that, "Covid has accelerated the inevitable changes facing the postal sector." He described his organization's "Future of the Post" project, which includes a raft of newly digitized services.
Automation and digital tools has also helped Iceland Post increase services while cutting costs, explained CEO Þórhildur Ólöf Helgadóttir. She emphasized the necessity of global electronic advance data (EAD) in meeting new needs and decreasing the costs imposed by manual errors. Correos de Mexico Director General Rocío Bárcena echoed the increased importance of traceability across the market.
Bringing in the perspective of small island developing states, Post Fiji CEO, Anirudha Bansod described how disruptions to international postal traffic the Post to reevaluate its portfolio of services. As a result, the Post was able to focus on new and necessary services, such as grocery delivery and insurance.
New Zealand Post CEO David Walsh pointed towards increased communication with customers and the collection of data to determine what services should be prioritized.
Sustainability in focus
The second panel collected inputs from PostNord President and Group CEO Annemarie Gardshol, An Post CEO David McRedmond and UPU Director of Policy, Regulation and Markets Siva Somasundram, on sustainability within the sector. They remarked on the importance of collaboration across the supply chain and among stakeholders.
To illustrate this. Ms. Gardshol described a PostNord project to develop more streamlined e-commerce packaging to prevent waste which included working with partners across the logistics chain, as well as academics. The concept is now being tested with a local telecommunications provider.
"Sustainability is built around a holistic approach," added Mr. McRedmond, who noted the importance of engaging governments, businesses and civil society on the issue. While he noted that it was within the postal culture to "act in the common good," he suggested that the sector's work was challenged by the rise of the "gig economy," which he said could shirk labour laws and sustainability best practices to offer their services at a much lower cost.
From the UPU perspective, Mr. Somasundram added that it was important for posts to consider the deeply interconnected nature of the UN sustainable development goals (SDGs) in their sustainability programmes.
"The climate actions we take must also support our contribution to social and economic sustainability initiatives we're undertaking," he said, adding that the UPU was in the best position to act as a platform to coordinate action on the SDGs.
Transformation, trust and partners
The last panel of the day had industry experts reflect on the journey ahead, touching on the need for digital transformation, potential to leverage trust in the Post and the necessity of partners.
Brody Buhler, CEO of Escher Group, noted that a new kind of customer experience would be required as the parcels market grows. He noted that control, insight, visibility and interaction were becoming imperative parts of the customer experience as customers rely heavily on mobile services coming out of the pandemic.
Speaking from his role as the Chair of the UPU's Postal Operations Council, La Poste's Jean-Paul Forceville added that this work must proceed faster on the international level. He suggested that more advanced countries should work to help those who are less advanced adopt the necessary practices and tools to offer services expected by global customers. This would entail investments in technology as well.
The private sector could also be a resource for best practices and tools to help Posts foster digital inclusion of their customers, added Mike Froman, a Vice Chairman and President of Strategic Growth at Mastercard. He added that private sector expertise could help maintain trust as the Post branches into new dimensions.
Tomaž Kokot, CEO of the Slovenian Post, noted that respect and open communication with employees would help build on that trusted relationship with customers, who view postal employees as "the face of the State."
Panelists noted that partnerships and trust among all stakeholders would also be key to their work on sustainability across the sector.
Ms. Helgadóttir, who rejoined the last panel, added that customers should be partners in the Posts sustainability initiatives. They would have to accept that the way they receive their parcels may change as Posts work to reduce their carbon footprint.
The Internet Society will host its fifth annual Indigenous Connectivity Summit, bringing together a diverse group of stakeholders under a common goal: connecting Indigenous communities in North America to fast, affordable, sustainable Internet.
Indigenous communities are among the most underserved in terms of Internet access in Canada and the United States. In Canada, the majority of on-reserve homes – more than two-thirds – do not have high-speed Internet. In the United States, according to the Federal Communications Commission (FCC), nearly 630,000 tribal households lack access to standard broadband, a rate more than four times that of the general population.
This year's Summit will take place 12-15 October, and is the second to be held virtually. Indigenous leaders, community network managers and operators, Indigenous-owned Internet service providers, community members, researchers and policymakers will join in community-led discussions to share the latest on connectivity solutions, funding sources, next-level advocacy, and success stories from Indigenous community networks in Canada and the United States.
Each year the Indigenous Connectivity Summit focuses on what can be done collectively to narrow the digital divide and expands on efforts from previous events. At the center of discussions are the pressing issues Indigenous communities in North America face as they work to access the Internet on their own terms, including disaster preparedness and recovery; access to resources, such as infrastructure, spectrum and backhaul; and capacity building.
Highlights from this year's agenda include:
Workshops on Indigenous digital equity, accessing state, federal and private funding, and digital sovereignty, as well as lightning talks on community networks in Hawai'i and Winnipeg; sustainable networks; and the Inuvik Internet Exchange Point (IXP);
Research presentations from the University of Hawai'i, the University of Alberta and the American Indian Policy Institute at Arizona State University; and
Case studies highlighting Indigenous communities pursuing innovative and independent ways to connect the Internet and their unique challenges to connectivity, including Pu'uhonua o Waimanalo in Hawai'i.
The Summit will culminate in the presentation of the 2021 Policy Recommendations to help policymakers in the United States and Canada make more inclusive decisions.
Impact Over Five Years
The Internet Society, a global nonprofit organization working to promote an open, globally connected, secure and trustworthy Internet, has worked with Indigenous communities to find and implement sustainable access solutions that meet their needs. The organization formally established the Indigenous Connectivity Summit in 2017 and it remains the only community-led event of its kind.
The Internet Society offers two training courses for Summit participants. The first is the technical training, which focuses on building and operating sustainable, secure community networks.
The Policy and Advocacy training offers introductory sessions on broadband policy and advocacy, and how-to classes on government consultations and funding opportunities. The participants lead the Summit session on crafting policy recommendations, which will guide advocacy efforts through the coming year.
Over the course of five years:
The Summit has trained nearly 300 participants as part of both the pre-Summit Community Networks and the Policy and Advocacy trainings.
The Summit has issued 47 total policy recommendations from 2017 through 2020. These recommendations have been reflected in such reports, policies and legislation as the 2019 Arctic Council's report Improving Connectivity in the Arctic, rural development strategies and funding criteria in government programs in Canada and the U.S.
Seventeen Indigenous Community Networks have been supported in both the United States and Canada, including Pu'uhonua o Waimanalo in Hawai'i and Ulukhaqtuk, Northwest Territories, among others. As part of this year's Summit, a team will be recruited to help install a second Community Network at Pu'uhonua o Waianae in Hawai'i.
In 2020, the Internet Society assisted tribes navigating the Tribal Priority Window (TPW), providing free advice and support to tribes, including webinars and application walk-throughs. More than 400 tribes applied for a license through the TPW, and as of August 2021, 270 tribes have been issued licenses.
In 2019, the Summit was recognized by the U.S. House of Representatives for "working to strengthen the digital bonds between America's Native communities."
The Internet is indispensable to how we learn, work and access critical services, but too often Indigenous Communities find themselves on the wrong side of the digital divide. An open and trustworthy Internet, available in the manners and methods which serve users' needs, is essential in ensuring Indigenous communities are able to fully participate in this global resource. It is vital we help cultivate policies, both technical and legislative, that ensure Indigenous Communities have affordable, high-quality and sustainable Internet access."
Learn more about the 2021 Indigenous Connectivity Summit.
Almost two years into the pandemic, the world continues to rely heavily on technology for everyday life activities – and it does not seem that this will change any time soon. It is estimated that global internet traffic in 2022 will exceed all the internet traffic up to 2016. And while COVID-19 has accelerated a global transition towards a digital economy, the crisis has also shed even more light on the digital divide.
Today, access to the internet remains a luxury for many, leaving those who are unconnected behind. Almost half of the world is still offline (3.7 billion people), and yet 85% of the world's population is covered by at least a mobile network. To ensure an inclusive future, it is crucial to address inequalities in access to technology, as well as gaps in affordability, adoption and use of digital services.
"As the world is fast becoming digital, today more than ever we must work together, collaborate and pool our resources to ensure no one is left behind," said Doreen Bogdan-Martin, Director of the Telecommunication Development Bureau at the Telecommunication Development Bureau (ITU). "We need to find new ways to overcome connectivity barriers, level-up affordable access to technology and empower everyone, everywhere with the opportunity and choice to access life-changing, enabling, digital services."

The digital divide in terms of internet connectivity and use is compounded by a data-related divide. Image: UNCTAD
Innovative financing for inclusive development
The challenge to enable affordable digital services for billions of people is significant – estimated at $2.1 trillion. This includes the pipeline to teach digital skills, enhance trust in technology, and develop digital solutions in key areas such as health, education, and financial services. Traditional financing mechanisms – and the traditional digital infrastructure actors – cannot address either the solutions or the financing alone. There is therefore a pressing need for innovative instruments and mechanisms to encourage more players to participate in the financing of digital inclusion.
As a result of the realization through the pandemic of the central role digital participation plays in social and economic inclusion, there is a tremendous amount of enthusiasm from businesses and policymakers to close the digital divide. This has created a unique opportunity to capitalize on the momentum and find new and creative ways to invest in access, inclusivity and equality, so that the most vulnerable are connected.
Trillions of dollars are being invested in environmental, social and governance (ESG) projects from both the public and private sectors. Investors, operators, and other players are deploying new financial arrangements on initiatives promoting digital inclusion as these are key enablers for the achievement of the Sustainable Development Goals (SDGs). This shift towards sustainable and social financing creates an opportunity to unlock capital that will advance digital inclusion and contribute to the SDGs.
"Digital technologies are unlocking new pathways for rapid economic development, job creation and access to services in finance, education and health which would have been unimaginable only a decade ago," said Riccardo Puliti, Vice President for Infrastructure at the World Bank. "Yet, there is also a growing 'digital divide' and increased cyber risks which need urgent and coordinated action to mitigate. Countries around the world have an unprecedented opportunity to harness the digital economy as a driver of growth and innovation."
Some innovative financing arrangements that are emerging and broadening the base of contributors include earmarking proceeds from ICT sector participants, reforming Universal service and Access Funds (USAFs), creating an international fund, and issuing bond financing for digital inclusion – enabling organizations to leverage existing market frameworks to tap into the $500 billion ESG bond market to finance investment in digital infrastructure and services.
Establishing shared principles in the digital economy can also help provide a foundation to ensure an inclusive financial system. The development and implementation of resources, policies and regulation, and services that are inclusive by design, interoperable, digitally-led, economically sustainable, trusted, and informed by data will foster an environment for rapid uptake of digital solutions.
A cross-sector approach to building inclusive, sustainable societies
The United Nations aims to bring 75% of the world online by 2025, with the internet costing no more than 2% of earnings. Mobilizing public-private collaboration is crucial to bridge the financing, regulatory, and policy gaps to reach universal broadband access within the next decade. With greater access and more affordable digital services, we can stop the widening of existing divides and ensure that the other half of the world gets connected.
For the world to build back better, governments must embed digital within all other national priorities and set up horizontal and whole of government approaches to facilitate the necessary policies, regulatory, and economic environment to connect the unconnected while also progressing toward the achievement of the SDGs.
"Now is the time to make use of the increased profile and political awareness of the advantages of digitization," said Mats Granryd, Director General at GSMA "to stimulate all levels of government to actively support policies that lead to long-term digital strategies and promote the private investment required to deliver them."
The World Economic Forum's EDISON Alliance is prioritizing digital inclusion by fostering collaboration between governments, companies and other organizations globally. Through the 1 Billion Lives Challenge, the Alliance will accelerate digital inclusion for 1 billion people through affordable and accessible digital solutions across, at least, health, finance, and education by 2025.
I work as a freelancer on a digital platform. Like millions of other young people around the world, I find odd jobs on the web. So far, nothing special, except that when I log on to the internet to surf the ads, I do it from Kakuma, one of Kenya's largest refugee camps.
I arrived in Kakuma twenty years ago with my uncle, fleeing the situation in South Sudan. We came with nothing.  But I love to study and thanks to the education opportunities I found in the camp, I managed to complete high school and got a social work degree and a diploma in primary education. Now I am a primary school teacher and a social worker.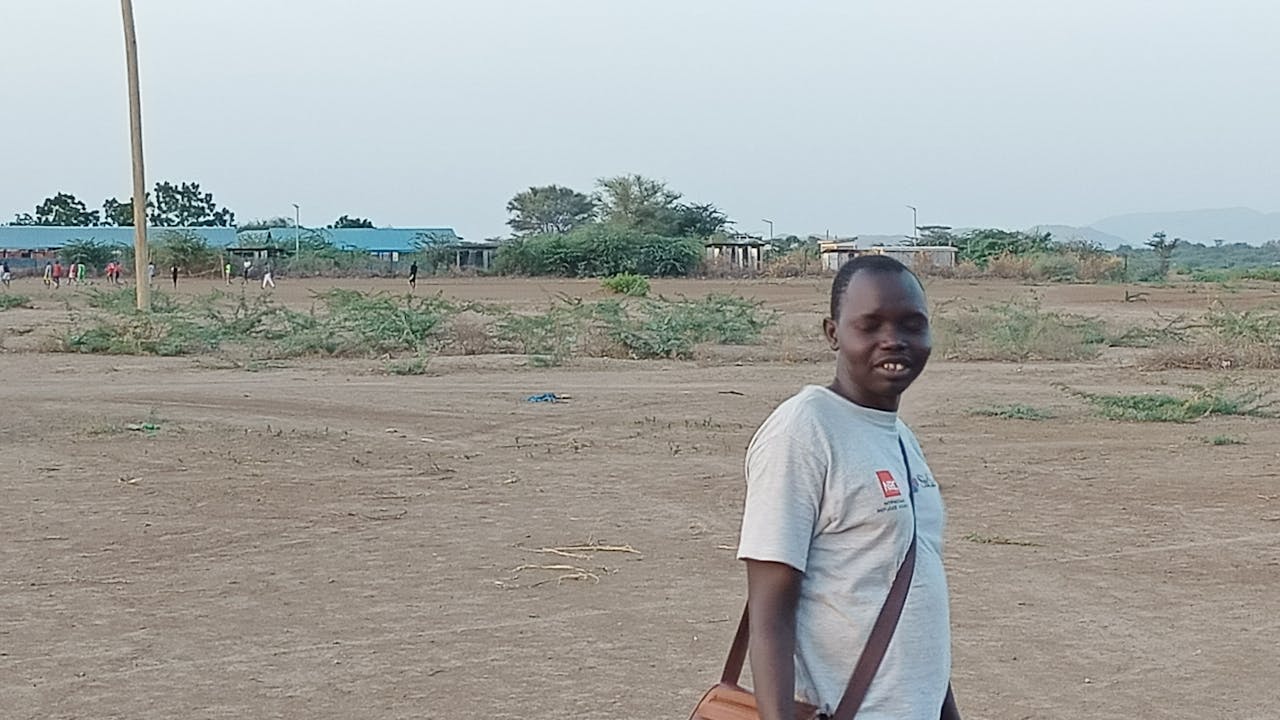 I have lived in Kakuma camp in Kenya for the past twenty years. © Thon Mabior Jok
At the end of 2020, I participated in a course organized by the Refugee Employment and Skills Initiative (RESI) of the International Trade Center (ITC), and the Norwegian Refugee Council (NRC), in partnership with Upwork, a global freelancing platform.I already had a diploma in computer applications that helped, and I learned enough to be able to manage on digital platforms. For several months now, I have been finding jobs on the web, mainly as a translator of Dinka and Juba Arabic – languages mainly spoken in South Sudan – as well as Swahili.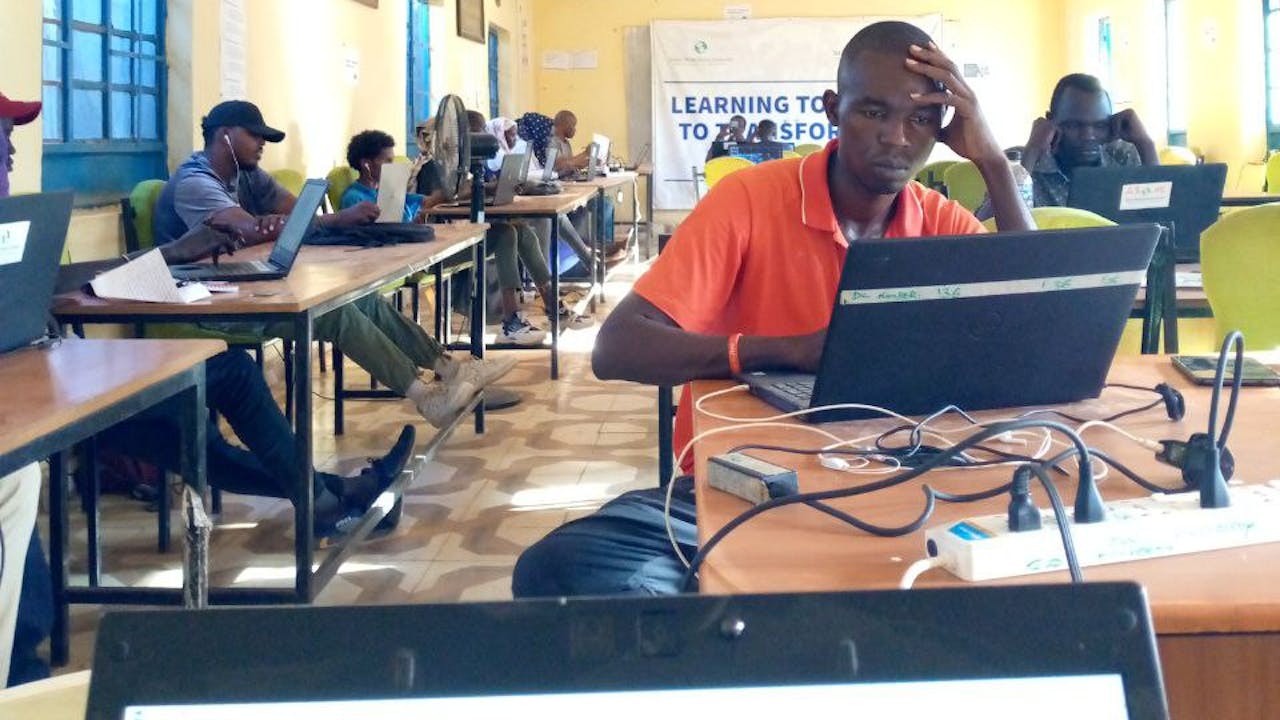 The only place where I can work online in the refugee camp is at the internet centre. © Thon Mabior Jok
This work provides me with much-needed extra money, but it's not enough to make a living and it's not always easy: the connection is not always good, and you can't work from home. You need to go to the internet centre, which is only open at certain times of the day.The chances of a refugee landing a job on a digital platform are actually very small. Sometimes there are not enough jobs for everyone. There is always a lot of competition. And it is not easy to find a job that pays well. When there is an advert there will be a hundred applications, that's the main challenge. Of the hundred or so students who attended the course, barely a dozen have found work.
If we want to make working on digital platforms a reality for refugees, we need a lot more help.
If we want to make working on digital platforms a reality for refugees we need a lot more help: new computers, better connectivity, more opportunities. Otherwise, it will remain something we do from time to time.And it's not just technical problems. As refugees we do not have permanent identification. We have an alien card that expires every five years. This makes it much more difficult for us to get hired and paid, although the good thing about working as a freelancer is that you are not required to have a work permit.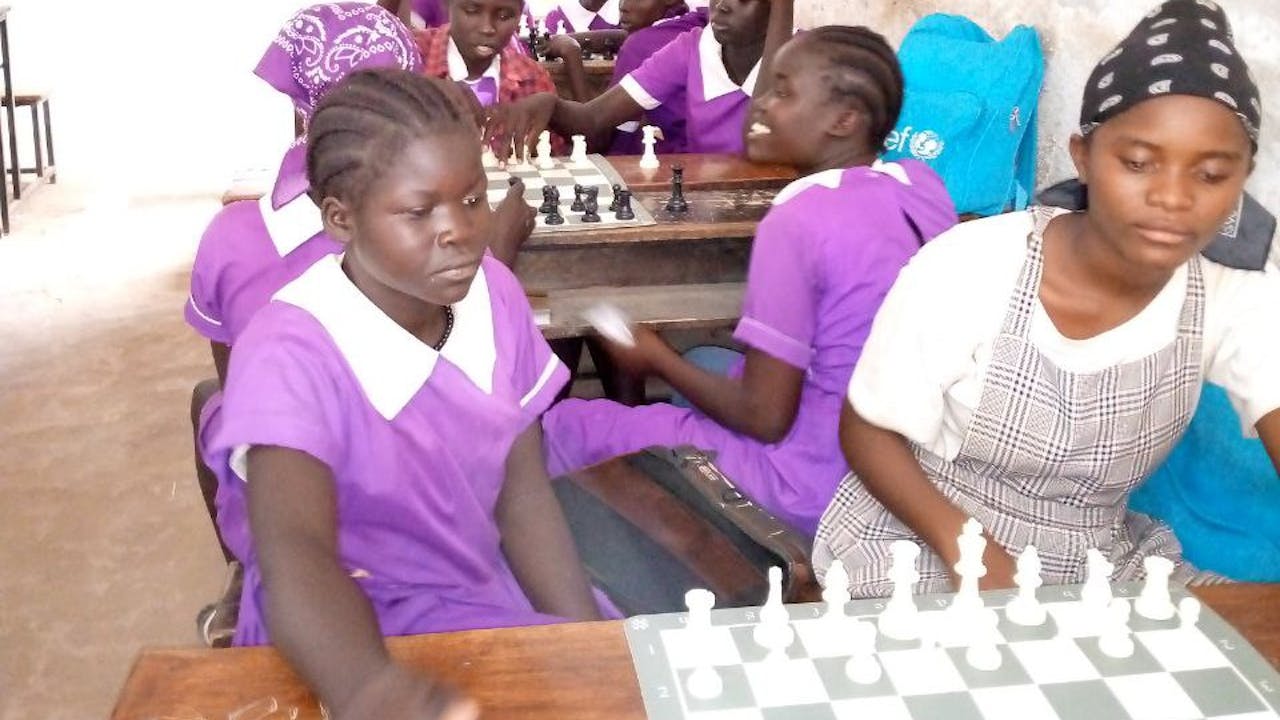 My former students at the chess club. © Thon Mabior Jok
When I am not on the web, I like to come back to see my students from the chess club. I teach them new moves and how to improve their critical thinking, so they become better players in chess, and in life.
Fast facts
Kakuma refugee camp is home to 160,000 refugees from South Sudan, Sudan, Somalia, the Democratic Republic of the Congo, Burundi, Ethiopia, and Uganda. It is one of the largest refugee camps in the world.
Sixty-eight per cent of Kakuma refugees live below the poverty line of $1.90 per day.
According to an ILO report on refugees and digital labour platforms, refugees must overcome many obstacles to work on digital platforms including low internet access, educational levels and IT skills; a lack of suitable payment systems; and a lack of labour regulation of platform work.
The ILO is a partner in the PROSPECTS programme, funded by the Government of the Netherlands, which seeks to improve access to employment, education and protection for refugees and host communities.
Under PROSPECTS , the ILO is looking at unlocking some of the challenges faced by digital workers like Thon, including partnering with online platforms that have regular work from international firms.
Find out more
Report: Towards decent work for young refugees and host communities in the digital platform economy in Africa: Kenya, Uganda, Egypt
Digital labour platforms offer young refugees a possible route to decent work
Partnership for improving prospects for forcibly displaced persons and host communities (PROSPECTS)
Global Call to Action for a Human-Centred Recovery
The UN Global Initiative on Decent Jobs for Youth