Digital trade has become part of life for businesses and consumers, but at the same time there are aspects of it where trust can be an issue, such as how our private data is used. David Cuckow, Associate Director, Digital at BSI, makes the case for using standards to build greater trust in the digital world and put our minds at ease.
The impact of the digital world on our lives has been profound. Alongside acknowledgement of the incredible new ways it has given us of communicating and doing business there is sometimes unease about how it may affect our lives in ways we don't quite understand.
As digital exploded in the late twentieth and early twenty-first century, regulations struggled to keep pace. It is now better understood that digital technologies are borderless and the way they develop is very difficult for individual governments to control. In contrast to products, digital technology applied to services can be more complex due to their intangible nature.
It is against this backdrop that David Cuckow, Associate Director, Digital at BSI believes there is a critical role for standardization to help build a consensus on 'what good looks like' in the digital world, increasing trust and benefitting ethical businesses and consumers alike.
"It's very hard to predict developments in the digital world so it's really important that good practice, represented by standards, is on the table at the beginning of the decision-making process to ensure it is part and parcel of a systematic approach to development," said David. "This is as true in the context of trade and trade negotiations as in any other."
The benefits of digitalization in moving products and services across borders efficiently are enormous. In the areas of food and agricultural products digital technology can be used to check provenance and help ensure compliance with stringent regulations. Distributed ledger and cloud technology can also be used to remove technical barriers to trade and support low friction trade. Standards can support development in all these areas to improve trade and protect consumers.
"These are complex and challenging areas that governments have to tackle to protect the rights of citizens and build trust in the marketplace," said David. He identifies three potential approaches to regulating this area, each likely to produce different results.
"The first is what has been called the 'Darwinian' approach, where the market evolves without shared best practice, in which the biggest and the strongest operators in the market drive the standards. This can stifle innovation and does not necessarily protect the interest of consumers.
An acknowledgement of the potential of standards was evident at the G7 summit in Cornwall this summer with a Ministerial Declaration from the G7 (the UK, Canada, France, Germany, Italy, Japan, the US and European Union) expressing a commitment to work together across the digital landscape in areas such as internet safety, the free flow of data and digital technical standards.
A framework for G7 collaboration on digital technical standards spoke of cooperation "… to support industry-led, inclusive multi-stakeholder approaches for the development of digital technical standards in line with our core values.
"There was an understanding that countries can come together to agree baseline principles and use these to inform policy and international trade and digital trade. The existing international standards system provides the perfect platform to do that," said David.
He also sees that standards can be beneficial to big tech companies and SMEs alike. "There is an element of self-regulation, where standards can augment and complement existing laws and rules. Shared good practice also facilitates greater collaboration and can instil greater confidence in B2B buyers and consumers".
"People want to see big tech following an ethical way of doing business. At the same time, big business is taking an increasingly enlightened approach, taking greater account of things like transparency, their social impact and the environment. The more standards can enable this evolution the better for everybody," said David.
Find out more about standards by subscribing to Standards Outlook
The main objective of AfTIAS 2.0, whose implementation will span over five years, is to improve international trade environment in the Arab region and make it more efficient and inclusive.
The International Islamic Trade Finance Corporation (ITFC) (ITFC-idb.org) launched today the second phase of the Aid for Trade Initiative for Arab States (AfTIAS 2.0) Program at the headquarters of the Islamic Development Bank (IsDB) Group in Jeddah, Kingdom of Saudi Arabia.
The main objective of AfTIAS 2.0, whose implementation will span over five years, is to improve international trade environment in the Arab region and make it more efficient and inclusive, create job opportunities, and contribute to sustainable development in the region. The Program also aims to facilitate access to foreign markets, remove restrictions on the supply of goods and services, and enhance trade inclusion of women, youth and disadvantaged groups, who have recently suffered the effects of the Covid-19 pandemic.
The kick-off ceremony featured the signing of grant agreements with the Islamic Republic of Mauritania and the Arab Organization for Agricultural Development (AOAD), through which each of them donated $1 million to the Program. The agreements were signed by Eng. Hani Salem Sonbol, Chief Executive Officer of the ITFC and Chairman of AfTIAS Board, on behalf of AfTIAS, and H.E. Prof. Ibrahim El Dukheri, AOAD Director General, and Mr. Mohammed Lamine Ould Dahbi, on behalf of the AOAD and Mauritania, respectively. On this occasion, Eng. Hani Salem Sonbol expressed the gratitude of the IsDB Group for the support that this initiative has received from the Arab leaders, reflected in the resolution adopted at the 4th Arab Economic Summit, held in Beirut in January 2019, which invited the ITFC to prepare and launch the second phase of the AfTIAS Program, in cooperation with the League of Arab States and its member States.
Eng. Sonbol also expressed his sincere thanks and appreciation to the Secretary-General of the League of Arab States, H.E. Mr. Ahmed Aboul Gheit, for his personal support to the IsDB Group for the implementation of this resolution and for ensuring the appropriate conditions for a successful launch of AfTIAS 2.0. He thanked as well the donors that responded to the Arab Summit resolution and provided financial support to AfTIAS 2.0, which include Mauritania, the AOAD, Saudi Arabia, Egypt, Algeria, the Trade Development Fund, the IsDB and the ITFC.
In the second phase of the AfTIAS Program, Arab countries look forward to projects that help them achieve the following goals:
Trade development and competitiveness: To address issues related to removing non-tariff barriers, promoting regional trade, fostering institutional innovation and increasing technical readiness for action in the region, as well as supporting access to trade finance;
Support for inclusiveness: focus on lower-income groups, empower women, and increase youth participation in trade;
Regional investment: Through the preparation of documentation for projects on tradeable infrastructure;
South-South Cooperation (IsDB's Reverse Linkage mechanism) with a view to supporting and strengthening the capacities of governmental bodies, non-governmental organizations, chambers of commerce and others.
Research and survey: Supporting NGOs and providing the necessary information for the Program's decision-making.
Trade is the main engine for economic growth, promoting development and attracting investment, and is a vehicle for supporting and developing relations between countries.
AfTIAS 2.0 will also provide a platform for economic recovery to address medium and long-term effects of the COVID-19 pandemic on trade in the Arab region, with a focus on unemployment issues, new trade barriers, difficulties in engaging in regional value chains, scarcity of investment financing, and trade digitization.
In a recorded statement, H.E Dr. Muhammad Al Jasser, Chairman of IsDB Group, said: "The Islamic Development Bank Group views the AfTIAS 2.0 Program with great optimism and hope. With its new phase, the Program aspires to respond to the needs of Arab countries amid the impact of the COVID-19 pandemic".
In his address, ITFC CEO pointed out the importance of the initiative, saying: "Our meeting today is the culmination of more than two years of preparation, starting with the design of the AfTIAS 2.0 Program and its unanimous approval by all parties. He added, "Trade is the main engine for economic growth, promoting development and attracting investment, and is a vehicle for supporting and developing relations between countries. Therefore, through AfTIAS 2.0 we call for joint action plan to support Arab countries development goals and help them recover from the impact of the pandemic. This is possible through our partners within and outside the Arab region, whom we invite to join this important program."
Dr. Kamal Hassan Ali, Assistant Secretary-General for Economic Affairs of the League of Arab States, on behalf of H.E the Secretary-General of the League of Arab States, said: "AfTIAS 2.0 is aligned with the main objective of the League of Arab States, which is to raise economic integration among Arab countries and improve income levels – reducing poverty and unemployment and making Arab economies more resilient to economic turmoil." He also added that, "the second phase provides a new platform and a practical strategy to unlock the potential and resources that the region possesses and works to address the challenges imposed by the pandemic."
It is noteworthy that the ITFC supervised the execution of the first phase of the AfTIAS program between 2013 and 2018, with the aim of supporting trade in the Arab region. During the first phase of this Program, 28 projects were implemented for the benefit of 19 Arab countries.
In early 2019, the IsDB Group responded to the request of H.E the Secretary-General of the League of Arab States to bring into effect the decision of the Arab Economic Summit held in Beirut in 2019, which called on ITFC on behalf of the IsDB Group to prepare and launch the second phase of the AfTIAS Program, in cooperation with the League of Arab States and its member states. Based on this mandate, between 2019 and 2020, ITFC prepared and approved the AfTIAS 2.0, with the aim of creating an environment conducive to international trade in the Arab region to make it more inclusive and effective to contribute to creating job opportunities and achieving sustainable development.
ICT services grew to almost 14% of total services' exports worldwide in 2020, while the long-term upward trend in digitally deliverable services trade rapidly accelerated.
COVID-19 has provided a strong impetus for businesses and individuals to adopt digital tools, helping to drive a 6% increase in worldwide exports of ICT services, according to an UNCTAD technical note on the pandemic's impact on trade in the digital economy, published on 21 October.
The value of ICT services' exports worldwide reached $676 billion in 2020 as the usage of communications services, computer services and software were boosted by the lockdown restrictions implemented in many economies.
This took digitally deliverable services to nearly 64% of total services exports, as they contracted relatively little against the backdrop of an unprecedented decline in total services trade.
However, while these shares increased across all regions, the pandemic-related acceleration in digitalization risks further exacerbating digital divides, with least developed countries (LDCs) being left further behind.
"Low levels of digitalization and eTrade readiness are hampering the ability of LDCs to engage in digital trade at a moment when it has suddenly become even more important," said Shamika N. Sirimanne, UNCTAD director of technology and logistics. "It underscores the need to boost the capabilities of those trailing in digital readiness to catch up in the digital economy."
UNCTAD offers a range of technical assistance and capacity-building to support countries in engaging with and measuring their performance related to e‑commerce and the digital economy.
Digital delivery gains traction
Meanwhile, exports of the wider category of digitally deliverable services – those that can be delivered remotely over ICT networks such as the internet – fell by $58 billion to a value of $3.17 trillion worldwide.
Nevertheless, digital technologies appear to have played an important role in supporting broader international trade and economic activity in 2020.
While total services exports declined by 20% (an unprecedented drop since records began in 1990), worldwide exports of digitally deliverable services fell by only 1.8%. This reflects an increasing reliance on digital delivery to continue services' trade despite restrictions on movement implemented due to the pandemic.
With ICT services exports increasing and digitally deliverable services exports holding relatively steady in 2020, their share in the greatly reduced overall services exports increased significantly across all regions.
Worldwide, digitally deliverable services went from below 52% of services exports in 2019 to almost 64% in 2020, while ICT services grew from 10% to almost 14%, a marked acceleration of the long-term trend (as shown in the chart below).
Regions fared differently within this overarching picture, however. While the export share of digitally deliverable services increased in all regions and there was a 14-percentage point increase across developing regions, the increase was only 10 percentage points in Africa and 6 percentage points in LDCs.
ICT services' export share increased markedly less in LDCs compared to other regions – rising just 0.74 percentage points compared to 3.3 percentage points globally.
Global ICT and digitally deliverable services exports, 2005-2020 and 2019-2020 As a percentage of total services exports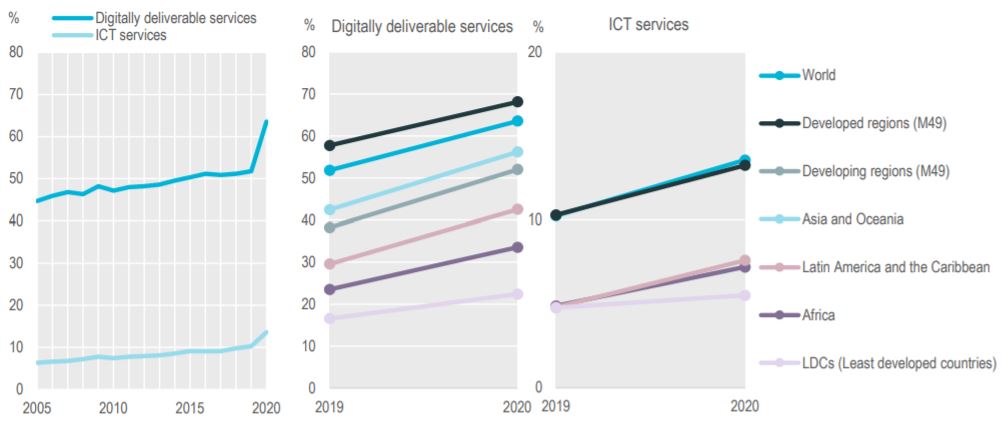 Source: UNCTAD based on UNCTAD digital economy statistics (unctadstat.unctad.org).
Note: ICT services unavailable for "Developing regions (M49)" and "Asia and Oceania".
In a world where access to financial services and high-speed broadband internet is not universal or affordable, fintech can democratize access to finance and the world can move closer to achieving financial inclusion. 
At the World Bank Group (WBG), we look at financial inclusion across three dimensions – 'Access, Usage, and Quality' of financial services.  Fintech has the potential to lower costs, while increasing speed and accessibility, allowing for more tailored financial services that can scale. Over the last decade, 1.2 billion previously unbanked adults gained access to financial services, and the unbanked population fell by 35%, primarily boosted by the increase in mobile money accounts.  While globally 1.7 billion adults remain unbanked, fintech is helping make financial services more accessible to an increasing number of people.
Beyond mobile money, fintech has also shown promise in areas such as Government to Person payments and cross-border remittances. Our paper on Digital Financial Services explains how this potential has been apparent during the COVID-19 crisis, when digital delivery channels have helped governments quickly and securely reach vulnerable consumers with cash transfers and emergency liquidity – allowing the transfer of funds with limited physical contact.
Global remittances in particular may see a complete transformation through the use of technology. Cross-border remittances account for $600bn in value and often exceed official developmental aid figures. The average global cost to send these funds in the form of cash is 6.8 percent, while a fully digital transaction drops the cost to 3.3 percent and reduces issues of liquidity.
Digital disruption, however, is not new, and we have long been able to summon movies, food and transportation at the touch of a button. Yet, the impact on the financial sector is different, primarily due to a) the impact it can have on financial integrity and stability b) new entrants with unconventional business models that don't fit neatly into existing legal frameworks and are difficult to monitor and c) the bearing on consumer protection.
This has led to a dilemma for policymakers worldwide when trying to achieve the right balance between enabling innovative fintech and safeguarding the financial system. They have taken different approaches- such as the use of regulatory sandboxes to direct regulatory amendments, which we highlight in our paper on Evaluating different fintech approaches.
Despite their utility, innovative technologies do have inherent risk. Fraud, issues of competition, data leakage, and unprotected consumer funds number among them. Responsible financial innovation requires balancing opportunity and innovation with safeguards to protect consumers. Our forthcoming paper on Consumer Risks in Fintech provides an overview new manifestation of risks to consumers and emerging approaches that can help mitigate such risks.
At the WBG, we support digital transformation in our client countries by:
Building the financial infrastructure and foundational building blocks including the regulatory and policy frameworks, digitally-enabled identity, and robust payment and credit infrastructures for sustainable, technology-led financial economies.
Boosting the capacity of governments to harness fintech, data, and expertise while responding proactively to changing regulatory and supervisory requirements.
Brokering collaboration between different players- both public and private- in the financial ecosystem to bring about symbiotic positive change.
One specific area where the WBG has been focusing its efforts is on the gender lens and the plight of micro, small, and medium enterprises (MSMEs). For instance, in India and in Ethiopia we are supporting women-led MSMEs – mostly vendors, seamstresses or marginal farmers – in using digital platforms. Working closely with the governments and fintechs on the ground, we are developing an application to support digital literacy while delivering targeted business insights and advice. Moreover, this data along with other alternative data such as repayment of store credit and collaborative behaviors will contribute to a credit score providing a route for access to finance to those without formal credit histories. The use of alternative data is gaining popularity in a number of other countries from Chile to Sierra Leone where  innovative solutions harness the value of transaction data from ecommerce and payment platforms, mobile phones, or even social networks as alternative sources of information to assess creditworthiness. This is financial empowerment in action—especially when combined with measures to protect consumers and financial education to prevent over-indebtedness.
Another important technology that is being tested for its role in developing markets and inclusion is distributed ledger technology (DLT). The WBG is working with the government of Haiti to export their high quality mangoes and avocados using DLT. This supports the supply chain and maintains symmetry of information hence de-risking the investment of third parties that conduct the quality control while allowing the farmer to keep ownership until the final sale to the consumer.
Financial inclusion, however, is not only a goal in itself, but also a means to an end as an enabler and accelerator of economic growth.  It has a multiplier effect, contributes to the economic development and stability of a country, and aids the achievement of the UN Sustainable Development Goals. Through our work, we aim to give the 1.7 billion remaining unbanked —mostly poor, mostly women—access to basic financial services, and we are using fintech to help us. We take a minute to pause and to learn from our experiences, build on the progress made so far, and look into the future—to the next 20 years—as our journey continues.
This article was first published in the Fintech times- Edition 39'.
The global economic landscape has been evolving at a very rapid pace, with the world seemingly irreversibly transformed by the pandemic and moving towards a new norm. ASEAN businesses are looking for clear pathways going forward, and regional policymakers are ready to support the transition to the post-pandemic circumstances.
ERIA's President, Prof Hidetoshi Nishimura delivered remarks at the ASEAN Business and Investment Summit (ABIS) 2021, stating that to remain relevant and effective, ASEAN should quickly adapt to these developments and trends by being agile, flexible, creative, and staying open to new conversations, while remaining focused in achieving its goals.
'ERIA in supporting ASEAN, has conducted extensive policy research and analysis for ASEAN and East Asia Summit, on key regional economic issues and found that major trends pushed by Covid-19 pandemic include restructuring and diversification of global and regional value chains, and hence, a need to refocus on supply chain resilience empowered by digital technologies and new business models,' said Prof Nishimura during the Panel Discussion on Digital ASEAN.
Moreover, Prof Nishimura stated that the pandemic has provided the extra driving force for e-commerce growth and the shift towards greater use of online facilities such as e-commerce, communication technology and e-health care. The pandemic accelerated the demand for online activities, which encouraged further investment in digital-related businesses.
'In advancing digital ASEAN, companies should re-strategise their retail strategies by adopting digital technology, with the reconfiguration of supply chains to increase resilience, increasing the adoption of digital tools and real-time data, and maximising utilisation of e-commerce platforms. This will address the issues for inclusiveness particularly for MSMEs, narrowing the digital divide in terms of gaps and infrastructure and could contribute towards the social dimension by ensuring sustainable food supply chains and e-health systems.'
According to Prof Nishimura, to facilitate ASEAN businesses' transformation, there has to be a highly coordinated region-wide cooperation in ICT development and digital trade facilitation supported by the markets and business councils. With this, ASEAN businesses could remain resilient and thrive even during this pandemic, and therefore, attract more trade and investment into the region.
The panel discussion was opened by a keynote address by the Prime Minister of Malaysia, The Hon. Dato' Sri Ismail Sabri bin Yaakob. The panel discussion featured the Vice-Chair of Global Investment Banking CIBC and former Minister of Innovation, Science, and Industry of Canada, Mr Navdeep Bains; Vice President Southeast Asia and Emerging Markets of Facebook, Mr Benjamin Joe; Managing Director of Brunei Gas Carriers, Mr Pengiran Shamhary bin PDP Hj Mustapha; and President & Managing Director of SAP Southeast Asia, Ms Verena Siow. Mr Steve Lai, News Anchor at Channel News Asia (CNA), moderated the discussion.
In the Q&A session, Prof Nishimura highlighted the importance of Investment in data to support digital transformation, particularly through the 'Digital PPP' – public-private partnership in investment in data and digitalization for better rule-settings in Asia. Furthermore, he stated that data governance will be a foremost challenge in connecting ASEAN digitally. There is also an urgent need for ASEAN to enhance regional collaboration in cybersecurity.
In closing, he emphasised three messages for ASEAN: first, establish ASEAN's new covid-resistant and digitalised supply chain; second, develop 3Rs – robust, responsive, and resilient risk management capability, holistically; and third, the first two initiatives should be technology-led, leveraging platforms for growth.
In many countries, statistics show a strong uptake of online sales and a big increase in the market share of online as opposed to offline retail since the start of the pandemic. In COVID-19 and e-commerce: a global review, the United Nations Conference on Trade and Development reported that Latin America's online marketplace Mercado Libre, for example, sold twice as many items per day in the second quarter of 2020 as during the same period in the previous year; African e-commerce platform Jumia reported a 50% jump in transactions during the first six months of 2020.
The three members of the Global Express Association (DHL, FedEx and UPS) have also seen a massive increase in the volumes of non-document shipments they carry.  During the first wave of the pandemic – February to June 2020 – their volumes grew by 50%. Part of this increase was medical equipment (PPEs, masks, etc.), but a substantial proportion was made up of other types of items.
Consumers went online – many millions of them for the first time – because they could not go out to the shop round the corner. Some observers believe that many will return to the shops when they re-open, but many will continue to shop online. In other words, the volumes of shipments of goods purchased online will stay strong during the recovery from the pandemic.
It is more difficult to find data on international online sales, but here as well, volumes are reported to be increasing. When the COVID-19 outbreak became global early in 2020, initial uncertainty and transport disruption caused a dip in international online sales, but according to cross-border e-commerce solution provider eShopWorld, they rebounded in April 2020 and then rose to unprecedented levels throughout the course of 2020.
It has in fact been pointed out that facilitating cross-border e-commerce could help with the economic recovery, provided there is due emphasis on the need to ensure that the smallest traders can avail themselves of the export opportunities this brings.
Many countries have established thresholds below which no duties and taxes are levied and only minimal information is required to be provided when a consignment enters a country. While the value of this threshold varies a lot, in most countries the exponential increase in the sale of physical products online translates into an increasing number of "low-value" shipments crossing a border. Controlling this particular flow of goods to prevent the movement of prohibited and restricted goods, and identify consignments which have been split and/or undervalued to evade duties and taxes, presents a number of challenges.
The pressing issue is how to manage this time-sensitive flow of goods without placing a strain on control operations and on the capacity of logistics service providers, and without creating complex procedures and a heavy workload for small businesses and individuals who have limited capacity to meet complex trade regulations.
WCO STANDARDS AND GUIDANCE MATERIAL
To address this issue, WCO Members have been working through a multi-stakeholder Working Group on E-Commerce (WGEC)[1] on the development of international norms and guidance material, which have been brought together in an E-Commerce Package including not only a Framework of Standards on cross-border e-commerce (E-Commerce FoS), but also many tools to support its implementation.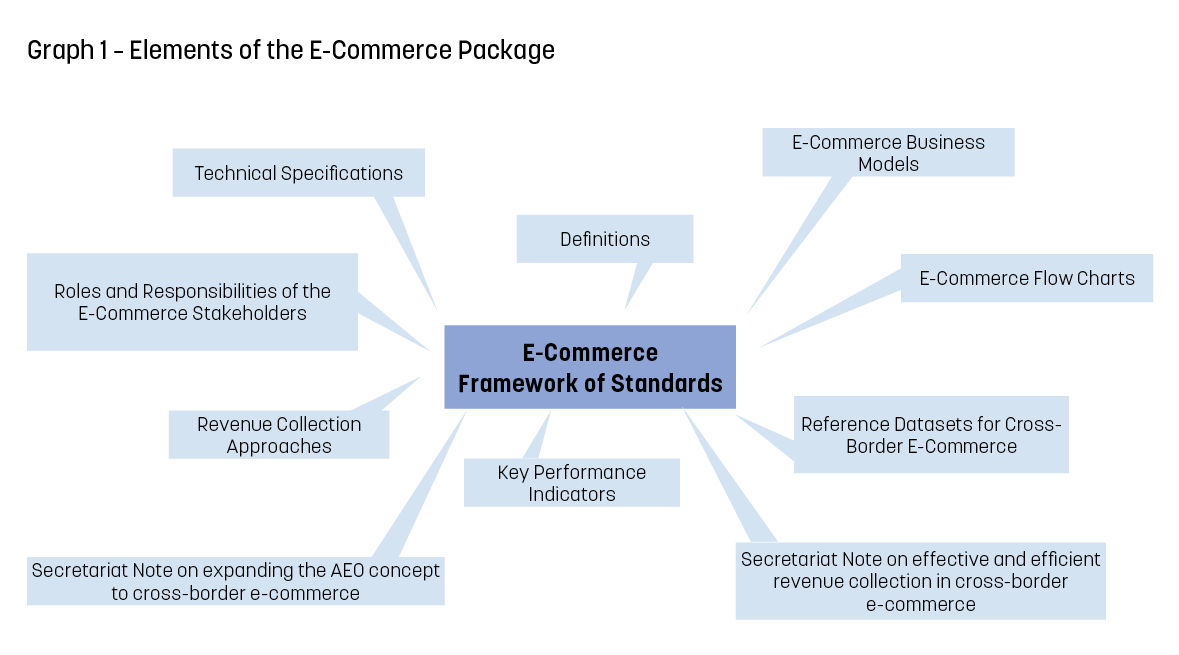 The Framework provides 15 baseline global standards with a focus on the exchange of advance electronic data (AED) for effective risk management. It also encourages the use of the Authorized Economic Operator (AEO) concept, non-intrusive inspection (NII) equipment, data analytics, and other cutting-edge technologies to support safe, secure and sustainable cross-border e-commerce.
Now is the time for implementation, and a broad capacity building action plan which will guide the WCO Secretariat's activities in the coming months has recently been added to the Package, along with key performance indicators (KPIs) which will make it possible to monitor the implementation of the WCO standards and identify capacity building needs.
In January 2021, the Secretariat started rolling out regional workshops to ensure that all WCO Members had a good knowledge of the Package; these workshops included representatives of the Universal Postal Union (UPU), the Organisation for Economic Co-operation and Development (OECD), the Global Express Association (GEA) and e-commerce stakeholders.
As a next step, in 2022 national workshops will be planned for administrations that have notified their intention to implement the E-Commerce FoS, completed an assessment using the WCO KPIs and made an official request to the Secretariat. The Secretariat has already accredited 11 Technical and Operational Advisers on E-Commerce so it can respond positively to such requests for assistance.
MAIN CHALLENGES AND TOPICS DISCUSSED
Areas posing specific challenges were identified during the regional workshops. They include the collection of electronic advance information on e-commerce shipments, the improvement of compliance and data quality, the simplification of duty and tax payment procedures which are often too complex, and the strengthening of risk analysis capacities. The topics discussed included expanding the concept of Authorized Economic Operator (AEO) to include e-commerce stakeholders, the use of advanced technologies, and cooperation with stakeholders such as marketplaces, fulfilment centers and free zones/warehouses.
GOVERNMENTS AND BUSINESS NEED TO MEET THIS CHALLENGE TOGETHER
In the same spirit as the regional workshops, on 28 and 29 June 2021 the Secretariat held its Second Global Conference on Cross-Border E-Commerce, thanks to the financial support of the Customs Cooperation Fund of Japan. Some speakers highlighted the tremendous degree of dynamism and also the variety observed in countries nowadays in the area of cross-border e-commerce approaches, legislation and capacity; for example, the ability to analyse data for risk assessment purposes varies a lot between national agencies and countries. Moreover, while the underlying technology enabling data exchange may be similar in terms of its fundamental logic, the requirements differ from one administration to another.
One of the objectives of the workshops and the Conferences has been to enable Customs to share processes and procedures, as well as to better understand the e-commerce "ecosystem" and its business models. Other forums also exist at the national level, with more and more Customs administrations creating working groups with e-commerce stakeholders as they review their legal and operational frameworks. At a higher level, companies have started building their own cooperation frameworks with some governments in order to explore new policies and rules in support of trade.
For the "Dossier" in this Edition, we have invited several administrations to share information on the initiatives they are taking to enhance their capacity to control the compliance of "low value" shipments.
We start with an article by Argentina Customs, explaining how the Administration is reviewing its legal, policy and operational framework to ensure it is aligned with the WCO E-Commerce FoS and other WCO guidance material. The article does not describe the procedures in place to process the flows of goods generated by online sales in Argentina, but interested readers can consult the WCO Compendium of Case Studies on E-Commerce to which Argentina Customs contributed. Instead, the article focuses on the various steps of the review process.
This is followed by an article by United States Customs and Border Protection about two test programmes it recently conducted to assess the possibility of collecting certain advance data related to shipments potentially eligible for release under its de minimis entry process, and to implement a new entry process for such shipments.
Next, the use of three types of technology to enhance targeting capacities is described in an article by the Korea Customs Service. These technologies are blockchain, artificial intelligence and big data. The Administration also shares some interesting lessons, highlighting the fact that successful technology-focused projects aim to find solutions to actual issues faced by operational officers, and that teamwork between ICT and Customs experts is critical.
The last article introduces Peru Customs' new clearance process for express shipments, as well as the web platform and mobile application it has developed to enable importers to track the status of their shipments and pay duties and taxes at authorized banking institutions. Not only has the new process enabled the Administration to improve its risk management procedures, it has also significantly reduced the time required for the release of goods.
Even if every country's situation is unique, I believe that it is still important to ensure experiences are shared and initiatives explained. More and more Customs administrations are looking at how to review or enhance their legal and operational frameworks in line with WCO standards and guidance tools. I warmly encourage them to contact us should they wish to communicate on their eff
[1] The Working Group comprised representatives from governments, the private sector, international organizations, E-Commerce stakeholders, and academia.
The World Bank approved a $150 million grant from the International Development Association (IDA) in support of the Government of Mozambique's Digital Governance and  Economy Project (EDGE), which focuses on increasing access to civil identification, digital public services and improving digital business opportunities.
"Sixty percent of the Mozambican population lacks official civil identification.This leads to disenfranchisement and leaves large portions of the population, a majority of whom are women, without legal identity, preventing them from accessing schooling, and later in life financial services, pensions, formal jobs, entitlement claims and property transactions," noted Idah Z. Pswarayi-Riddihough, World Bank Country Director for Mozambique, Madagascar, Comoros, Mauritius and Seychelles.
The EDGE project comprises investment and technical assistance activities, and is structured around four mutually reinforcing components as follows:
Component 1 will focus on two critical aspects of digital transformation: institutional capacity and government connectivity. The objectives of this component are to strengthen the government's capacity to leverage technologies for improved service delivery, while increasing public sector connectivity across the country.
Component 2 will facilitate access to legal identification for all citizens, while supporting the development of digital government services. The main beneficiaries of this component will be citizens who lack legal identification, public service users, as well as public and private organizations relying on identity credentials for the provision of services.
Component 3 will support the growth of the digital private sector by supporting digital SMEs to take advantage of business opportunities created through digitalization efforts in the public sector. Activities under this component, in collaboration with the private sector, will also seek to reduce the gender gap in the technology sector.
Finally, Component 4 will support effective project implementation, and ensure that the necessary coordination and change-management processes are carried out in a timely manner.
"Leveraging technology for service delivery requires putting users first, combined with strong institutional capacity to design, implement, procure and coordinate digital efforts across government. This is one important challenge this project has set out to address to achieve services that are faster, cheaper, and better," added Tiago Peixoto, Senior Public Sector Specialist and the project's lead.
"The project will support the development of Mozambique's digital business ecosystem in order to take advantage of business opportunities that digitalization efforts will create. It will also promote local digital start-ups and SMEs, which have the potential to grow and spur job creation," concluded Eva Clemente Miranda, Private Sector Specialist and the project's co-lead.
The project will leverage an existing coordination mechanism within the Ministry of Science and Technology. This project is in line with the country's priorities outlined in its five-year plan and the World Bank's partnership framework with Mozambique for FY 2017-22.
* The World Bank's International Development Association (IDA), established in 1960, helps the world's poorest countries by providing grants and low to zero-interest loans for projects and programs that boost economic growth, reduce poverty, and improve poor people's lives. IDA is one of the largest sources of assistance for the world's 75 poorest countries, 39 of which are in Africa. Resources from IDA bring positive change to the 1.5 billion people who live in IDA countries. Since 1960, IDA has supported development work in 113 countries. Annual commitments have averaged about $18 billion over the last three years, with about 54 percent going to Africa.
Trade Ministers of the G7 – a group of wealthy nations composed by the United States, Japan, Germany, Britain, France, Italy, and Canada – agreed on principles to govern digital trade. The principles covered the issues of open digital markets; cross border data flows; safeguards for workers, consumers, and businesses; digital trading systems; and fair and inclusive global governance. With regards to data flows, G7 Members expressed concern with growing data localization measures, and reinforced their support to the principle of "data free flow with trust" (DFFT). This principle had been enshrined before in the G20 Osaka Leaders Declaration from 2019. On that occasion, the 'Osaka Track' was launched, a process that aims to intensify efforts on international rule-making on the digital economy, especially on data flows and e-commerce. Three G20 members, India, Indonesia and South Africa, opted out of the Osaka Track.
The recently agreed G7 principles expressed indirect support to ongoing negotiations taking place at the WTO's e-commerce Joint Statement Initiative (JSI), among a subset of the WTO membership. The WTO is mentioned as the organization where 'common rules for digital trade should be agreed and upheld'. The G7 also expressed support for rendering the WTO Moratorium on Customs Duties on Electronic Transmissions permanent, an issue that will be discussed in the next WTO Ministerial Conference (MC-12), scheduled to take place from 30 November to 3 December in Geneva.
The G7 principles have significant political importance, as they show the will to overcome differences between the US and the EU when it comes to regulating data flows, in particular different approaches to personal data. The principles could serve as a first step towards a common rulebook of digital trade among Members. The G7 also sends a message to third parties, as they express their 'opposition to digital protectionism and digital authoritarianism'. The principles were called a 'genuine breakthrough' by British officials. The UK holds the Presidency of the G7 in 2021.
Today, more than ever, digital technologies, ICT and digital literacy play an important role in increasing access and usage of affordable financial products and services.
In the Pacific, the COVID-19 pandemic has increased consumer demand for efficient and safe digital payment solutions, with private and public stakeholders joining hands to accelerate development.
The benefits include being able to transact in the comfort of one's home, farm, local market, business and ordering goods online and receiving them at one's doorstep, to name a few.
But there are also challenges with infrastructure, policy and regulation, and consumer uptake of digital payment solutions, as highlighted in a new UN Capital Development (UNCDF) report on e-commerce in the Pacific.
In an effort to develop digital economies in the Pacific region, the UNCDF has partnered with Samoan Fintech and geospatial company, SkyEye Pacific, to roll out a digital marketplace, based on addressing delivery systems and payment gateway called the Maua App.
Launched in 2019, Maua is a fully fledged one-stop e-commerce platform in the form of a mobile application that allows Samoans, including diaspora communities, to trade local produce, food, handicrafts, groceries, pharmacies, hardware, electronics and services online.
Maua is a trusted platform with the capability that meets people's needs even in the absence of physical registered addresses.
The Pacific Digital Economy Programme, funded by the Australian government and administered by UNCDF, UN Development Programme (UNDP) and the UN Conference on Trade and Development (UNCTAD), is at the forefront of these efforts.
Launched in September 2021, the main objective of the partnership is to support the development of innovative digital e-market and payment platforms to bring services within the reach of low-income households.
This includes improving access to domestic, regional, and global markets for MSMEs in the wake of the COVID-19 pandemic which has caused economic decline across the region. Currently, Maua has 45 active vendors with over 1,500 transactions recorded per month.
According to UNCDF, leaving no one behind in the digital era means having equal access to markets using digital platforms like the Maua app.
In a recent UNCDF-Kapronasia webinar on September 14, Sky Eye Pacific Co-founder and CEO, Faasootauloa Sam Saili, highlighted the need for partnerships to address digital ecosystem development not only in Samoa but the Pacific region at large.
The other panelists alongside Saili included Ariff Ali, Governor, Reserve Bank of Fiji; Tessa Price, Pacific Regional Executive, ANZ Bank; Bram Peters, UNCDF Regional Manager Pacific; and Zennon Kapron, Director, Kapronasia.
Saili called on all stakeholders especially governments, development partners and banks to work together to integrate fintech's, and mobile network operators to create consumer-friendly and seamless payment methods to support a cashless economy.
Saili said a cashless economy would promote resilience and sustainability, while helping Pacific Islanders adapt better to externals shocks such as a pandemics or natural disasters.
Digital transformation has exploded during the COVID-19 pandemic. Around 91 per cent of Posts worldwide now provide financial services, either directly or in partnership. These figures are likely to increase as e-commerce booms. It is estimated that e-retail revenues are likely to grow to 4.88 trillion USD in 2021, as the numbers of consumers continue to order goods online.
These staggering figures provided the backdrop for a 13 October discussion on digital transformation at the Parcel and Parcel Expo 2021 held in Vienna, Austria. During a "question and answer" session held at the beginning of the panel session, Pascal Clivaz, the Deputy Director General of the Universal Postal Union told the audience he had witnessed a transformation in the international postal sector over his career.
Although posts were at different levels of development, Mr. Clivaz said the sector had reinvented the postal dimension. "Posts were a public enabler and we should not fear the future," he said. He, however, went on to say that Posts must also be willing to negotiate and to enter into partnerships.
The UPU was also an essential strategic partner for the international postal sector. Mr. Clivaz said the UPU was a trusted partner that had great credibility across the sector. "The UPU can organize the dialogue, we have the independence, and we are not an e-commerce player."
In describing the UPU's role, the Deputy Director General told the audience that the UN specialized agency for postal matters was a "global motorway" for the industry. One that could help the entire sector on its digital journey. But, he cautioned, to achieve success there was a need for a pragmatic approach.  Asked about how the postal sector could transform, Mr. Clivaz said, "It is a long journey to achieve economic growth. We have the tools, but there is a need for financing."
Since the COVID-19 pandemic, the pace of embracing digital processes has accelerated. Prior to the global spread of the virus, digitization was merely a business choice; it is now a must as customers are likely to expect "contactless delivery" for the foreseeable future.
Delivery innovation, such as the use of parcel lockers and electronic signature capture are also being developed to provide flexible delivery options in this new environment. Given the global gaps in digitization, the UPU is now piloting projects to connect developing countries with the UPU's digital networks through the Customs Declaration System, International Postal System, and other IT tools.
UPU's goals when working with the international postal sector on digital transformation are to reinforce the national postal network; meet market needs and adapt the offer of postal services to new technologies; build an innovative and modern image of the Post in the eyes of stakeholders, particularly governments and the postal sector; and facilitate social and financial inclusion.
The Abidjan Business Strategy is the culmination of this thinking on digital transformation. It is the first fully data-driven strategy in the organization's history, and also includes essential elements such as the Postal Vision 2030. This is the UPU's advocacy message for the sector and is designed to inspire the different categories of stakeholders to take action in their respective fields.